This brief tutorial shows how to install BlueGriffon WYSIWYG editor on Ubuntu 13.04, 12.04, 12.10, Linux Mint using the GetDeb repository.
BlueGriffon is a new WYSIWYG content editor for the World Wide Web. Powered by Gecko, the rendering engine of Firefox, it's a modern and robust solution to edit Web pages in conformance to the latest Web Standards.
The GetDeb repository contains the latest packages for Ubuntu 13.04 Raring, 12.04 Precise, and old versions for Ubuntu 12.10, 11.10, 11.04 and 10.04.
To get started, follow the below steps:
1.) Download the getdeb package and double-click to install. It adds the repository to your system.
2.) If you installed Synaptic Package Manager, open it, click Reload button and search for and install BlueGriffon package.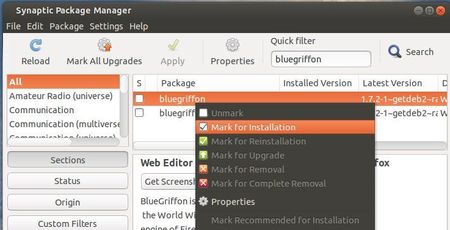 If not, run below 2 commands instead:
sudo apt-get update
sudo apt-get install bluegriffon
Enjoy!