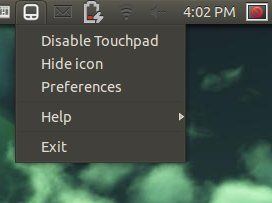 The touchpad indicator applet, which shows the status of the touchpad, and to enable and disable the touchpad, now is available in Ubuntu 13.10 Saucy. Here I'll show you how to install it in Ubuntu, Linux Mint, and Elementary OS using the developer's PPA repository.
So far, the PPA provides the latest packages for Ubuntu 13.10, Ubuntu 13.04, Ubuntu 12.04, Ubuntu 12.10 and the derivatives. Also there are old versions for Ubuntu 10.04, Ubuntu 11.04, Ubuntu 11.10 and derivatives.
Tutotiral Objectives
Install Touchpad Indicator in Ubuntu 13.10 Saucy
Enjoy!
To get started, press Ctrl+Alt+T to open terminal. When it opens, run below commands to add the Touchpad Indicator PPA:
sudo add-apt-repository ppa:atareao/atareao

Then you can install the indicator via below commands:
sudo apt-get update; sudo apt-get install touchpad-indicator

Once installed, search for and open it from Unity Dash.