Numix is a modern flat theme with a combination of light and dark elements. It supports Gnome, Unity, XFCE and Openbox.
This simple tutorials shows how to install Numix GTK as well as Numix icons on Ubuntu 13.10 Saucy, Ubuntu 14.04 Trusty, Ubuntu 13.04 Raring, Ubuntu 12.04 Precise and Linux Mint.
First take a look at screenshots: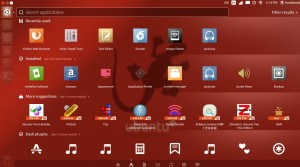 Install Numix GTK & Icons via PPA:
Numix project gets a launchpad PPA to make it easy to install Numix GTK, icons, wallpaper in Ubuntu 14.04, Ubuntu 13.10, Ubuntu 13.04, Ubuntu 12.10, Ubuntu 12.04 and their derivatives.
To get started, press Ctrl+Alt+T on your keyboard to open terminal. When it opens, run commands below one by one:
sudo add-apt-repository ppa:numix/ppa

sudo apt-get update

sudo apt-get install numix-gtk-theme numix-icon-theme numix-wallpaper-saucy
Once installed, use Gnome Tweak Tool, Unity Tweak Tool or other system tools to apply Numix theme and icons.