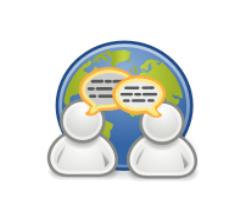 Smuxi is a free and user-friendly IRC / Twitter / XMPP client inspired by Irssi, available for Linux, Windows and Mac OS X.
Smuxi supports nick colors which are identical across channels and networks, a Caret Mode as seen in Firefox that allows to navigate through the messages using the keyboard, theming with colors and fonts, configurable tray-icon support, optional stripping of colors and formattings and convenience features like CTCP support, channel search and nickname completion. It has a tabbed document interface, tabbed user interface, and support for multiple servers.
Smuxi 0.10 was released recently with new navigation, scripting support and enhanced Twitter. See the release note for details.
Smuxi 0.10 in Ubuntu Gnome Desktop: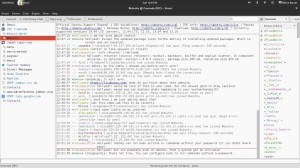 Smuxi 0.10 in Ubuntu Unity Desktop: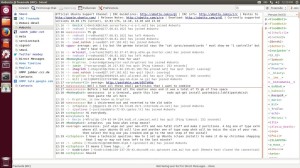 Install Smuxi via PPA:
Press Ctrl+Alt+T on keyboard to open terminal. When it opens, run commands below to add the PPA:
sudo add-apt-repository ppa:meebey/ppa
Then update package lists:
sudo apt-get update
Install the client:
sudo apt-get install smuxi