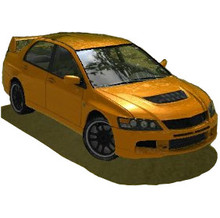 Stunt Rally, a free and open-source game based on VDrift and OGRE, with Track Editor, now is at version 2.3. Here's how to install Stunt Rally 2.3 in Ubuntu 14.04 Trusty LTS.
ChangeLog:
153 tracks (7 new, 27 renamed)
Common

All tracks renewed, new look
Terrain

New textures, bigger 1k, with CC 0 license, more info in data/terrain/about.txt
Blendmap noise with many parameters
Fixed triplanar uv swap, also now max 2 layers can be picked
Emissive light, on few tracks

Grass

Channels – different setups for grasses (e.g. white grass in higher mountains)
Grass density is a RenderToTexture

Tracks tab: list sorting fix, more scenery colors, icons hiding, start position
Frames per second limitting option
Disabled parallax, broken
Updated Compiling Wiki, made Windows pre-built dependencies archive

Game

Dynamic camera bouncing, camera view angle sliders
Boost fuel depending on track length, more boost options

Editor

Pick window for terrain textures, grasses and vegetation models

Tab key show/hide, bigger list, mouse wheel on button picks next/previous
Fill settings (marked with .) from presets.xml (optional)

Game tab with track settings: gravity, wind, deny reversed, etc.
Terrain

Test blendmap F9
Faster terrain editing, blendmap is now a RTT with shader
Swap layer buttons
Enter – lock brush position (use for big brushes to avoid blur)

Fixed selected objects rotation (many) and copy
Start position rotation also global and roll
Update button on Layers, Grasses, Vegetation for faster update (same for F8)
Vegetation model info: count and real sizes [m]
Surface tab for terrain and road surface params (split from Layers tab)
Test SceneryID button, shows % difference
Install Stunt Rally:
The new release is available in PlayDeb repository for Ubuntu 14.04 and their derivatives.
To add the PlayDeb repository, press Ctrl+Alt+T on keyboard to open the terminal. When it opens, run:
sudo sh -c 'echo "deb http://archive.getdeb.net/ubuntu trusty-getdeb games" >/etc/apt/sources.list.d/playdeb.list'
Then get the key:
wget -q -O- http://archive.getdeb.net/getdeb-archive.key | sudo apt-key add -
Finally update packages lists and install the game:
sudo apt-get update; sudo apt-get install stuntrally
That's it. Enjoy!