Full-screen writing program FocusWriter updated to version 1.5.0 with many exciting new features and improvements.
FocusWriter is a simple, distraction-free writing environment. It utilizes a hide-away interface that you access by moving your mouse to the edges of the screen, allowing the program to have a familiar look and feel to it while still getting out of the way so that you can immerse yourself in your work.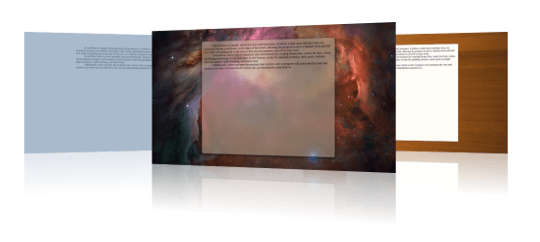 FocusWriter features:
TXT, basic RTF, and basic ODT file support
Timers and alarms
Daily goals
Fully customizable themes
Typewriter sound effects (optional)
Auto-save (optional)
Live statistics (optional)
Spell-checking (optional)
Multi-document support
Sessions
Portable mode (optional)
Translated into over 20 languages
The latest release 1.5.0 was released one hour ago on June 17th, 2014 with following new features and improvements.
Added daily progress dialog
Added default themes
Added blurring behind text area
Added drop shadow behind text area
Added duplicating themes
Added keyboard shortcuts to move between paragraphs
Added option to disable byte order mark
Added basic support for Office Open XML files
Added Windows installer
Include dictionaries on Windows
Improved theme dialog
Improved background color when loading theme
Stopped clearing document cache across runs
Synchronized location for open and save dialogs
Switched to hunspell
Switched to QtZip
Refactored daily progress
Refactored document cache
Refactored spell checking code
Install FocusWriter 1.5.0 in Ubuntu:
Press Ctrl+Alt+T on keyboard to open the terminal. When it opens, run the commands below one by one will install the writing app from its official PPA:
sudo add-apt-repository ppa:gottcode/gcppa

sudo apt-get update

sudo apt-get install focuswriter
Works on Ubuntu 14.10, Ubuntu 14.04, Ubuntu 13.10, Ubuntu 12.04 and their derivatives.
For Othe Linux, Window, and Mac OS, go to FocusWriter website.