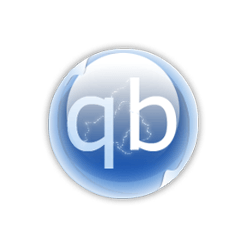 qBittorrent, a free and cross-platform BitTorrent client, has recently reached the 3.2.0 release with a huge list of changes.
qBittorrent 3.2.0 brings some exciting new features, including Qt5 supports, option to auto-hibernate computer, Haiku OS support, highlights files when opening containing folder on Windows and Linux(nautilus, dolphin, konqueror).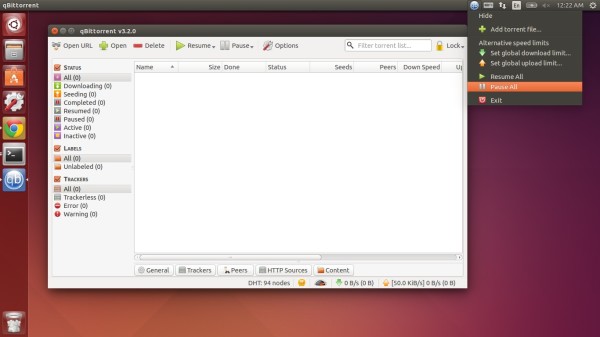 In addition, this release also features:
Show actual protocol for listen success/failure in the log. Needs libtorrent v1.0.0
Support per tracker re-announce. Needs libtorrent v1.0.0
Support saving in network locations
Code optimizations resulting in a more CPU efficient and snappier qBittorrent.
WEBUI code rewritten, refactored and improved.
Cache preferences in memory. Minimize chance of settings corruption.
Option to disable connections not supported by proxies.
Add a save resume data interval option(useful for SSD).
Add "Last Seen Complete" column
Add "Last Activity" column
Add "Total Size" column
Show current speed limits in the status bar
Episode filtering for RSS
Setting to ignore RSS rule matches for X days
Add hotkeys and buttons for Top and Bottom priorities
Implement peer relevance column.
Show reason why a peer was blocked. Needs libtorrent 1.0.x
Use the 'fastest_upload' setting as seed choking algorithm.
Allow to set text options for the toolbar icons
Add 'Resumed' torrent filter
'Add New Torrent` dialog has a button for quickly choosing a location
Copy selected peers as IP:Port format.
Show info hash in the torrent details in 'Add New Torrent' dialog.
New feature: Remove empty labels
Add "Copy name" option in right-click menu of torrent list. Closes #2452
Implement tracker list in the side panel. Closes #170.
Implement a 'Completed' status. Closes #2326 #2483 #939.
Columns for session-based download and upload statistics
There's also numerous bug-fixes and other changes, support for Qt <4.8.0 and libtorrent 0.15.x have been dropped. For details, see the official release page.
How to Install/Upgrade qBittorent in Ubuntu:
For Ubuntu 15.04, Ubuntu 14.04, Ubuntu 14.10, and their derivatives (build for 12.04 failed), the new release is available in its official PPA.
Open terminal from the Dash/Menu (or press Ctrl+Alt+T). When it opens, run command to add qBittorrent PPA:
sudo add-apt-repository ppa:qbittorrent-team/qbittorrent-stable

After adding the PPA, you can either upgrade the software via Software Updater, or install/upgrade it via below commands in terminal:
sudo apt-get update

sudo apt-get install qbittorrent