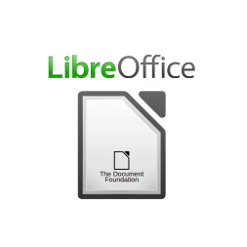 LibreOffice 4.4.5, the final stable release before LibreOffice 5.0 stable which is scheduled to be released next week, has been announced today.
It is the fifth bugfix release from the 4.4 branch of LibreOffice which contains new features and program enhancements. As such, the version is stable and is suitable for all users. This version may contain a few annoying bugs which will be fixed in the next bugfix versions to come.
How to Upgrade to LibreOffice 4.4.5:
For Ubuntu 15.10, Ubuntu 15.04, Ubuntu 14.04, Ubuntu 12.04 and derivatives (e.g., Linux Mint 17.x, and Elementary OS Freya), follow below steps to upgrade the office suite from PPA.
1. To add LibreOffice PPA, open terminal either from the Dash/Launcher or via Ctrl+Alt+T shortcut keys. When it opens, run below command:
sudo add-apt-repository -y ppa:libreoffice/ppa

2 After added the PPA, open Software Updater and you'll see the new LibreOffice release available for upgrade after checking for updates.
Just click Install Now button to install/upgrade it.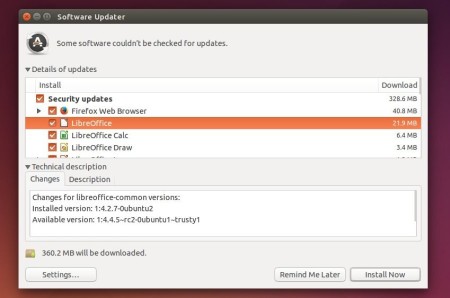 You can also use Synaptic Package Manager to upgrade the office suite.
3. Optional For those who want to revert back to the original LibreOffice version in Ubuntu, run below commands to install ppa-purge and purge the PPA which also downgrades all installed packages from that PPA:
sudo apt-get install ppa-purge

sudo ppa-purge ppa:libreoffice/ppa