Want to install an Android application on your phone and for some reason you can't access Google Play store from your Android device? Well, an alternative way is to download the APK file for the application on desktop computer, transfer it to your device, and install it manually.
Besides a web browser plugin, there's an open-source desktop application called GooglePlayDownloader that allows you to search for and download APK files of applications from Google Play Store.
The software is based on Python >=2.7 and: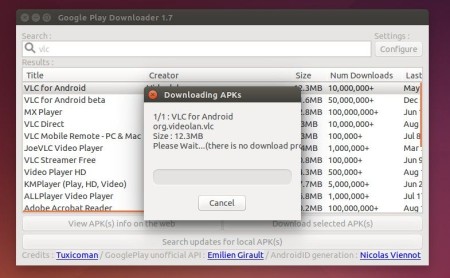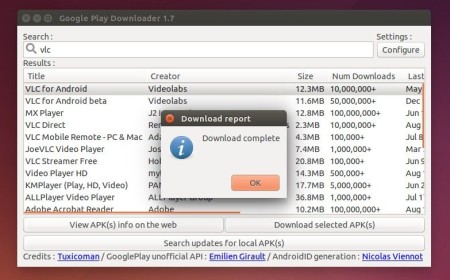 To use it, just select an application from search result and click the Download button. After you selected a folder to save APK files, a window pops up with downloading process though the process bar is not working for me. Just wait until it says 'Download complete'.
How to install this Software in Ubuntu:
1. (Only for Ubuntu 14.04 and earlier) download the dependency package and click install it via Software Center:
Download python-ndg-httpsclient
2. Download the .deb for the app from link below and install it via Software Center or Gdebi:
Download GooglePlayDownloader 1.7
Or you may check out its web page for most recent release.
Once installed, start the application from the Dash, Application Launcher, or run googleplaydownloader in terminal.