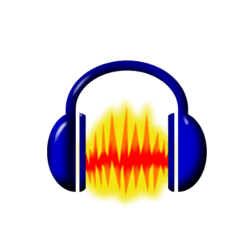 After more than one year of development, the Audacity audio editor has reached the 2.1.3 release. Here's how to install it in Ubuntu 16.04, Ubuntu 16.10, and their derivatives.
Thanks to an upgrade of the PortAudio library, Audacity 2.1.3 now properly supports Windows 10. It also features:
Added support for Magic Mouse/Trackpad on mac OS.
New Distortion effect, Rhythm Track (was called Click Track) and Sample Data Import. Also effects are no longer grayed-out when in pause.
New scrub ruler and 'pinned' option so the waveform moves and the recording/playing head stays still.
New features in Timer Record.
On Mac, audacity.app is now added to /Applications/ directly rather than adding a folder there.
Over 60 bugs fixed, including five longstanding bugs.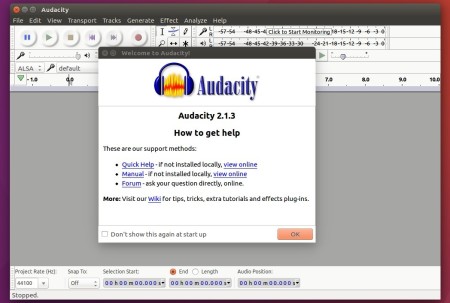 How to Install Audacity 2.1.3 in Ubuntu via PPA:
The Audacity Team does not offer official builds of DEB packages. Besides building from source, you can install Audacity 2.1.3 from my PPA (unofficial). Ubuntu 14.04 is excluded due to requirement of GCC >= 4.9.
1. Open terminal by pressing Ctrl+Alt+T or searching for "Terminal" from Unity Dash. When it opens, run command to add the PPA:
sudo add-apt-repository ppa:ubuntuhandbook1/audacity
Type in your password (no visual feedback due to security reason) when it asks and hit Enter.

2. After that, upgrade Audacity via the Software Updater (Update Manager) utility: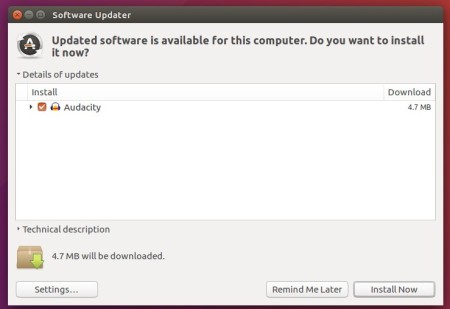 Or you can run the commands below one by one to install or upgrade the audio editor:
sudo apt update

sudo apt install audacity
Uninstall:
For any reason, you can easily remove the PPA and downgrade Audacity to the stock version in Ubuntu via the ppa-purge tool:
sudo apt install ppa-purge && sudo ppa-purge ppa:ubuntuhandbook1/audacity