The LiVES video editor and VJ tool has reached the 2.8.5 release. The new release features experimental support for Wayland.
Besides the Wayland support, LiVES 2.8.5 includes following changes
Fix audio loss when inserting without audio in clip editor (regression).
Fix compiler error and warnings for gcc 7
Fix regression in mkv_decoder.
Fix compiler warnings for openGL plugin.
Change max seek allowed from 1 second to 2 seconds in avformat decoder.
Update css state selectors for gtk 3.18+
Updated translation to Ukranian (thaks Yuri).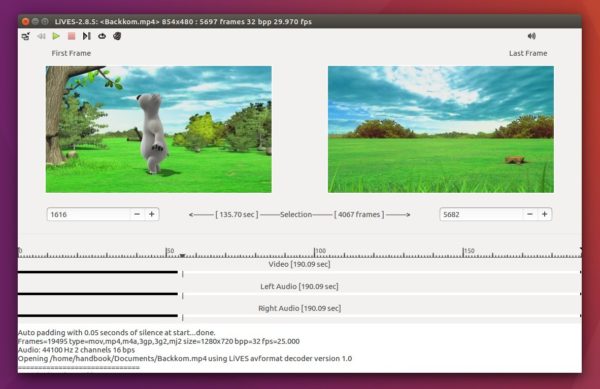 How to Install LiVES 2.8.5 in Ubuntu:
For Ubuntu 14.04, Ubuntu 16.04, Ubuntu 16.10, Ubuntu 17.04, and derivatives, you can install LiVES 2.8.5 from the unofficial PPA.
1. Open terminal via Ctrl+Alt+T or by searching for "Terminal" from start menu. When it opens, run command:
sudo add-apt-repository ppa:ubuntuhandbook1/lives
Type in your password (no visual feedback due to security reason) and hit Enter.

2. If you have a previous release installed, launch Software Updater (Update Manager) to upgrade LiVES after checking for updates: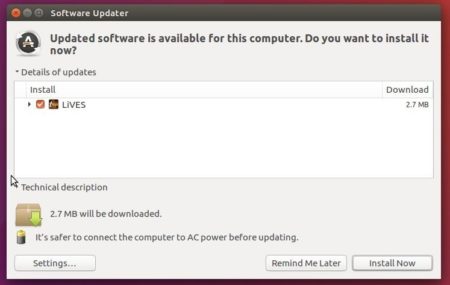 Or just run commands to install the editor for the first time:
sudo apt update && sudo apt install lives lives-plugins
Uninstall:
To remove LiVES video editor, either use your system package manager or run command in terminal:
sudo apt remove lives lives-plugins && sudo apt autoremove
And remove the PPA by going to System Settings -> Software & Updates -> Other Software tab.