Shutter, a feature-rich screenshot tool, got a new release recently after 2 years and 9 months since the last.
Shutter 0.94 is a bug-fix release with following fixes:
A crash issue when launching a second instance of Shutter
Shutter screenshots uploaded to Dropbox expires
Imgur uploaded links dialog shows links in random order on every upload
"Send by email" (ctrl+shft+E) error.
Insecure use of system() allows arbitrary code execution via "Show in Folder"
'Window' does not show non-latin characters
imgur upload plugin no longer works due to now unsupported API 1 and 2
Linux software store metadata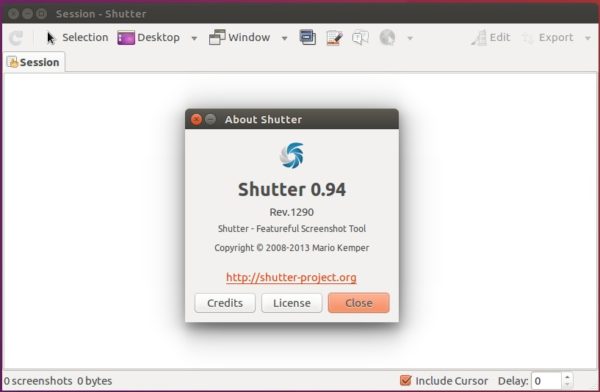 How to install Shutter 0.94 in Ubuntu 16.04, 17.04:
Shutter has an official PPA repository, but it does not update the new 0.94 packages at the moment of writing, though it has been released for more than 2 weeks.
For Ubuntu 16.04 and Ubuntu 17.04, you can upgrade to Shutter 0.94 via following steps using the unofficial PPA:
1. Open terminal via Ctrl+Alt+T or from app launcher. When it opens, run commands to add PPA:
sudo add-apt-repository ppa:ubuntuhandbook1/shutter
Input your password (no visual feedback while typing) when it prompts and hit Enter.

2. Then upgrade the screenshot tool via Software Updater: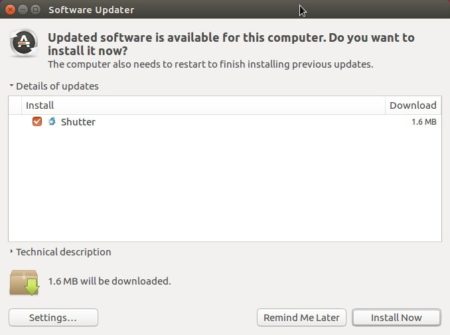 or simply run commands to check updates and install shutter:
sudo apt-get update

sudo apt-get install shutter
For those who don't want to add PPA, grab the .deb package directly from HERE.
How to Remove:
To downgrade Shutter to previous 0.93.1, purge the PPA repository via command:
sudo apt-get install ppa-purge && sudo ppa-purge ppa:ubuntuhandbook1/apps
To just remove the unofficial PPA and keep Shutter 0.94, launch "Software & Updates" utility and navigate to Other Software tab.