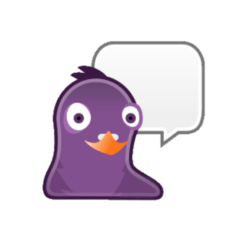 This quick tutorial shows how to install the latest Pidgin internet messenger 2.13.0 in Ubuntu 18.04.
Pidgin 2.13.0 was released a few months ago with better support for dark themes and various bug-fixes. While Ubuntu 18.04 ships with an old version in its main repository, you can install or upgrade to Pidgin 2.13.0 via this unofficial PPA.
The PPA packages also contain an IRC connection flood patch for this bug.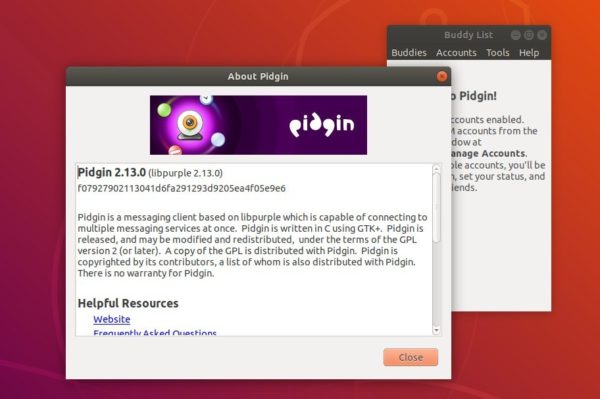 Install Pidgin 2.13.0 via PPA in Ubuntu 18.04:
Open terminal either via Ctrl+Alt+T or by searching for 'terminal' from software launcher. When it opens, run command to add the PPA:
sudo add-apt-repository ppa:kip/pidgin
Type your user password (no asterisks feedback) when it prompts and hit Enter.

Then you can upgrade the internet messenger via Software Updater: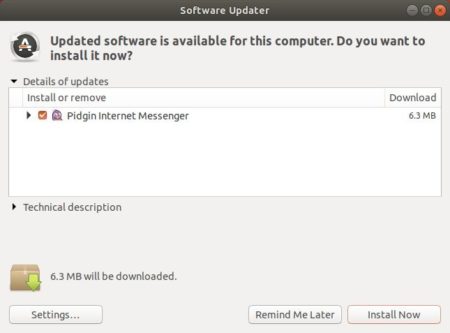 or run command in terminal to install Pidgin 2.13.0:
sudo apt-get install pidgin
Uninstall:
For any reason you can easily purge the PPA which also downgrade Pidgin to the stock version in Ubuntu 18.04 repository:
sudo apt-get install ppa-purge && sudo ppa-purge ppa:kip/pidgin