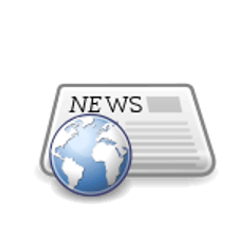 A new bug-fix release for Liferea 1.12 series was released today. Here's how to install it in Ubuntu 18.04, Ubuntu 16.04, and derivatives.
This is a bugfix release. It includes an important bug fix that solves a possible endless loop on using "Next Unread" which several users experienced as endless high CPU usage. If you are affected by this: please upgrade!

This release also switches the keyring integration from GnomeKeyring to libsecret and introduces a flatpak JSON.
Changes in Liferea 1.12.5 according to the changelog:
Webkit browser now supplies 'Liferea' component in user agent
Added "Mark All As Read" button to headerbar plugin
Added flatpak JSON
Added item list column drag and drop reordering
Move from GnomeKeyring to libsecret
Correct instapaper sharing link
Update sharing links
Fix consistent over usage of CPU (trigger by "Next Unread" loop)
Dropping Inoreader support (API broke)
How to Install Liferea 1.12.5 in Ubuntu:
For Ubuntu 16.04, Ubuntu 18.04, Linux Mint 19, 18.x, the new release is available in the unofficial PPA repository.
1. Open terminal either via Ctrl+Alt+T or by searching for 'terminal' from app launcher. When it opens, run command to add the PPA:
sudo add-apt-repository ppa:ubuntuhandbook1/apps
Type your password (no asterisks feedback while typing) when it prompts and hit Enter.

2. Then upgrade Liferea via Software Updater utility: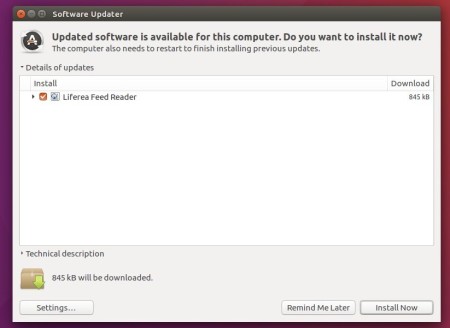 or run commands one by one to install the Linux feed reader:
sudo apt-get update

sudo apt-get install liferea
Finally launch the news reader from your application launcher and enjoy! (Log out and log back if you don't see the icon).
Uninstall Liferea:
As the PPA also contains many other software packages, you may remove it by launching Software & Updates and navigating to Other Software tab.
If you want to remove the Liferea news reader software, either use your system package manager or run command in terminal:
sudo apt-get remove --autoremove liferea