Want to display your computer's temperature, voltage, fan speed, memory usage, and other system resources usage in top panel? Vitals is a good choice for Ubuntu, Fedora Workstation, and other Linux with GNOME desktop.
It's a Gnome Shell extension that can display following information on your system tray area:
CPU core temerature.
Voltage.
Fan speed.
Memory and Swap usage.
Processor load, frequency.
System load, uptime.
Network speed.
Storage usage.
A drop-down menu is available to take a glimpse of all available data. And, user may click on menu option to select which to display on panel.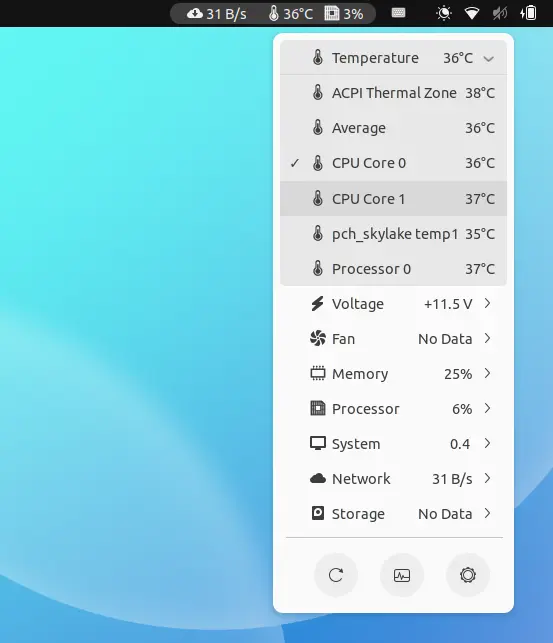 There are as well bottom buttons to quickly launch system monitor utility and open the extension "Preferences" dialog. In which, you may configure the refresh interval, indicator position, as well as toggle display sensors.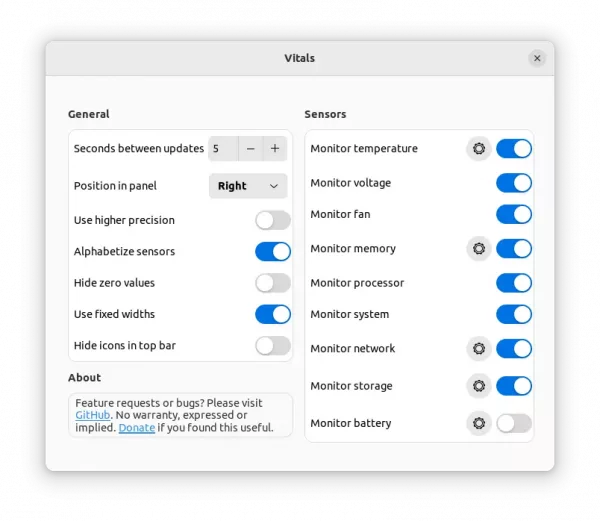 How to Install Vitals Extension:
The extension supports GNOME from version 3.18 to the current 42. Which means, you may install and run it in Ubuntu 18.04, Ubuntu 20.04, Ubuntu 22.04, Fedora 34/35/36, and other Linux (e.g., Debian, Arch, Manjaro) with GNOME.
Method 1: Install the extension via browser
Ubuntu user needs to firstly press Ctrl+Alt+T on keyboard to open terminal. Then, run command to install the agent to install Gnome Extension from web browser.
sudo apt install chrome-gnome-shell

Then, go the link below and turn on the slider icon to install the extension:
Click the link in the page to install browser extension if you don't see the slider icon, and refresh the page.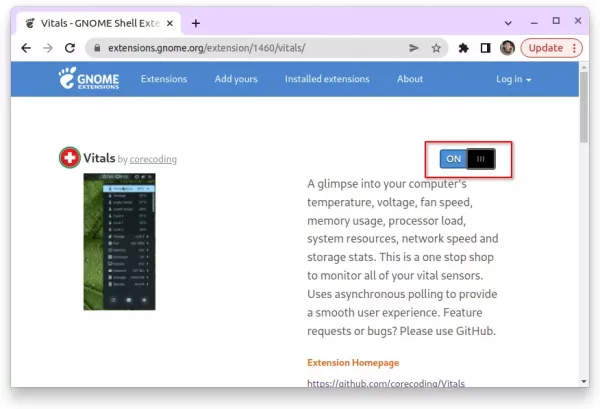 Method 2: Install the extension in Ubuntu 22.04 via Extension Manager
Ubuntu 22.04 defaults to Firefox as Snap which does not support installing Gnome Extensions. Besides using another browser or install back the classic .Deb package, "Extension Manager" is a good alternative.
1. Firstly, press Ctrl+Alt+T on keyboard to open terminal. When it opens, run command to install the application:
sudo apt install gnome-shell-extension-manager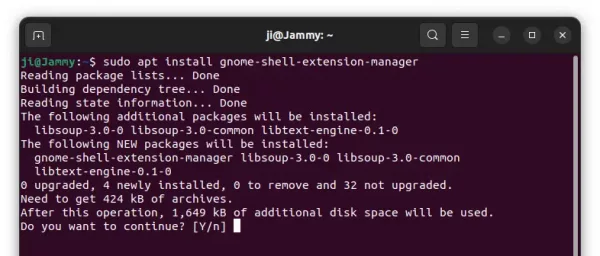 2. Next, search for and open the tool from either Activities overview or app grid: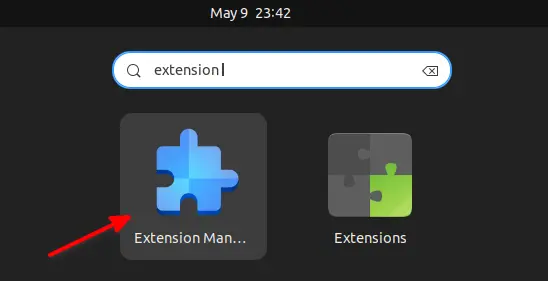 3. Finally, navigate to 'Browse' tab in Extension Manager app, search for and install 'Vitals' extension: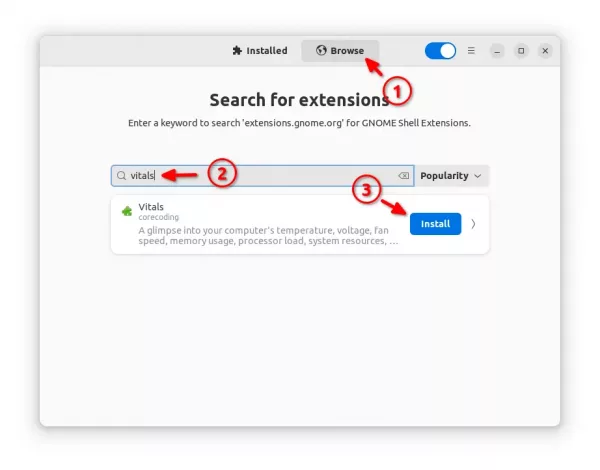 The indicator should appear immediately on your system panel after installation.