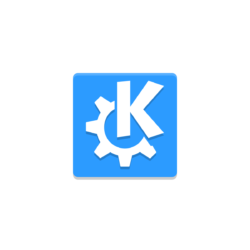 For KUbuntu 22.04 users, the KDE Plasma 5.25 desktop is available to install via official PPA repository!
New Features in KDE Plasma 5.25:
Plasma 5.25 was released a few months ago, with great user experience improvements for Laptop and Tablet users.
It introduced the multi-touch gestures support for PC with a touchpad device:
3-finger swipe any direction to switch workspace.
4-finger pinch to open overview.
4-finger swipe down to open present.
And 4-finger swipe up to activate desktop grid.
By detaching the screen or rotating it 360° will enable touch mode automatically for laptops that support it.
User can also swipe on touch-screen from the screen edge to open Overview, Desktop Grid, Present Windows, and Show Desktop.
Other exciting features includ:
Automatic accent color that follow background wallpaper.
Floating panel support.
How to Install KDE Plasma 5.25 via PPA
The new desktop packages have been made into testing repository for a month. And, I was waiting for the updates to be made into the stable backports PPA until I see the new extra PPA.
The packaging team backported the Plasma 5.25 packages into KUbuntu Backports Extra PPA for (K)Ubuntu PPA.
1. First, either press Ctrl+Alt+T on keyboard or search for and open terminal (koncole) from start menu. When it opens, run the command below to add the PPA:
sudo add-apt-repository ppa:kubuntu-ppa/backports-extra
Type user password when it asks (no asterisk feedback) and hit Enter to continue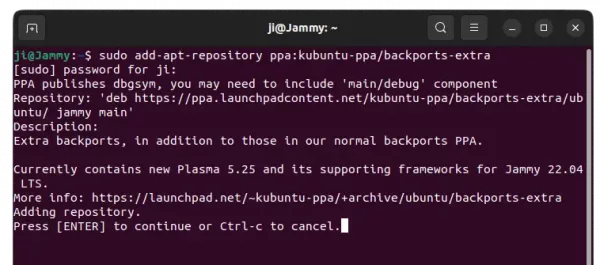 2. While adding the PPA, it should refresh the package cache automatically. In case it did not, run the command below to do it manually:
sudo apt update
3. Finally, update your desktop environment in KUbuntu 22.04 by running command:
sudo apt full-upgrade
NOTE: It must be apt full-upgrade rather than apt upgrade, or Plasma desktop 5.25 will be kept back due to dependency library change.
If you're going to install Plasma 5.25 on non-KDE Ubuntu edition, use command:
sudo apt install kubuntu-desktop
It's BETTER to make a backup of what it's going to install via terminal output, in case you want to restore you desktop to previous status.
Uninstall Plasma 5.25:
To remove the new desktop environment and revert back KUbuntu 22.04 to previous status, run command to install ppa-purge:
sudo apt install ppa-purge
Then use the tool to purge that PPA, which also downgrade all install packages to the stock versions:
sudo ppa-purge ppa:kubuntu-ppa/backports-extra