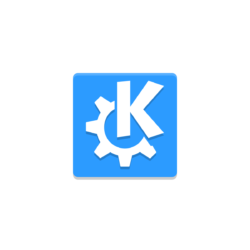 For KDE users on Ubuntu 22.04, meaning KUbuntu 22.04, Ubuntu Studio 22.04, etc, the latest Plasma Desktop 5.27 (5.27.8) now is available to upgrade through PPA.
KDE Plasma Desktop 5.27 was originally released in February. After more than 8 months of work, it has received 9 bug-fix updates and finally made into PPA for Ubuntu 22.04 LTS.
Plasma 5.27 features new window tiling system, that can be enabled "System Settings > Workspace Behavior > Desktop Effects". It allows to Shift + dragging to tile windows, and Super (Windows logo) + T to edit tiling mode.
The release also features swipe gestures for volume and playback control in Media Player widget, power usage monitor detection for NVIDIA GPUs, new command activate "Do Not Disturb" mode. See HERE for more.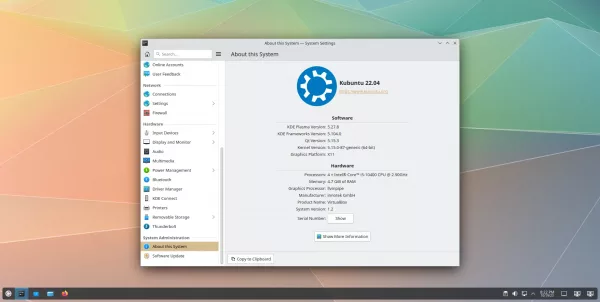 How to Install Plasma 5.27 in (K)Ubuntu 22.04
NOTE: This tutorial is also tested and works in Ubuntu Studio 22.04, but may not be supported, since the PPA is maintained by KUbuntu Team.
The latest Plasma Desktop packages are usually available in KUbuntu Backports PPA for current short-term Ubuntu releases (23.04/23.10 so far).
For current Ubuntu 22.04 LTS, an extra PPA is available, but moving slowly.
1. First, press Ctrl+Alt+T on keyboard to open terminal (konsole). When it opens, run command to add the PPA:
sudo add-apt-repository ppa:kubuntu-ppa/backports-extra
Type user password (no asterisk feedback) when it asks and hit Enter to continue.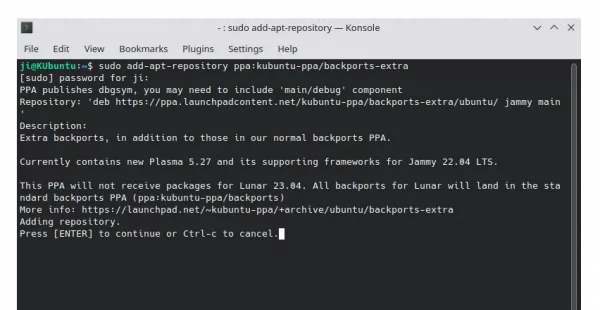 2. After adding the PPA, just run command to install all available package updates, which will upgrade your Plasma desktop to 5.27.
sudo apt full-upgrade
NOTE: it must be full-upgrade while 5.27 will be kept back when using apt upgrade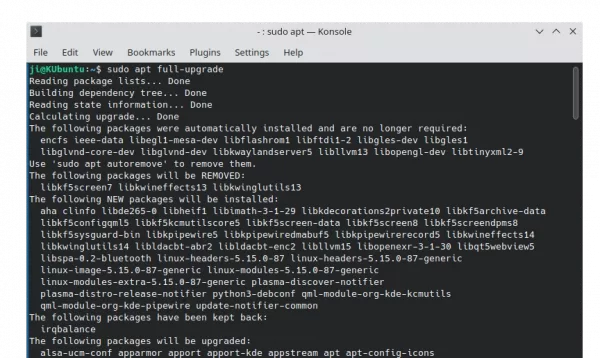 After installation, restart your computer and verify by launching System Settings and navigating to 'About this system' in left pane.
How to Restore
To restore the original Plasma Desktop 5.24, press Ctrl+Alt+T on keyboard to open terminal (Konsole) and run command:
sudo apt install ppa-purge && sudo ppa-purge ppa:kubuntu-ppa/backports-extra
This command will first install 'ppa-purge' tool, then use it to purge the extra PPA, which will downgrade all the installed packages to the stock versions.
Also, restart your computer to apply changes when the command is done.