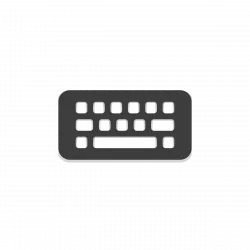 Looking for an alternative on-screen keyboard for Ubuntu, Fedora or other Linux with GNOME? Try GJS OSK.
As you know, the built-in on-screen keyboard (OSK in short) only appears when trying to search something in overview screen, and typing in a few core applications. You may use Improved OSK extension to make built-in OSK more usable by adding an indicator applet on panel to toggle display/hide the keyboard.
In this tutorial, I'm going to introduce a new OSK application. It's GJS OSK written in GNOME JavaScript. The application features on-screen keyboard with even more keys, such as F1 ~ F12, number 0,1,2,…9, and PrintScreen.
And, without sticking in the screen bottom, user can move the keyboard anywhere around the screen. Just click on quadruple arrow icon (see screenshot below) in the OSK, then you can drag moving it just like normal applications.
Also, it has an indicator applet on panel allows to one mouse click to show or hide the keyboard.
Other features of GJS OSK include:
Both Wayland and X11 support.
Support changing landscape and portrait size, font size, but sadly can NOT change the keyboard size.
Allow changing keyboard color.
Support QWERTY, QWERTZ, AZERTY, Dvorak layout.
How to Install GJS OSK
The application is available to install as GNOME Shell extension. At the moment, it supports GNOME 43 & 44. Meaning you can install and use it in Ubuntu 22.10, Ubuntu 23.04, Fedora 37/38, Manjaro, Arch, etc with GNOME.
NOTE: GJS OSK is a stand-alone on-screen keyboard. You need to disable system built-in on-screen keyboard first from Settings to avoid conflict.
1. For Ubuntu user, first search for and install "Extension Manager" from Ubuntu Software.
2. Then, launch "Extension Manager" and navigate to "Browse" tab. Finally, use it to search and install "GJS OSK" extension.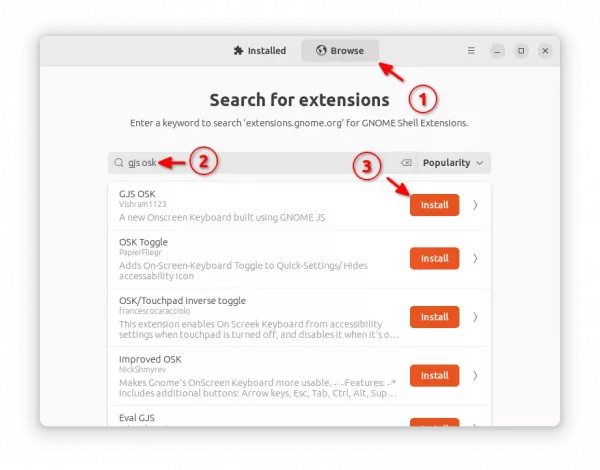 Once installed, an indicator applet should appear in top-right corner allows to toggle display or hide the on-screen keyboard.
To change the keyboard color, layout, etc, go back "Installed" tab in Extension Manager and click on the gear button for that extension to open the configuration page.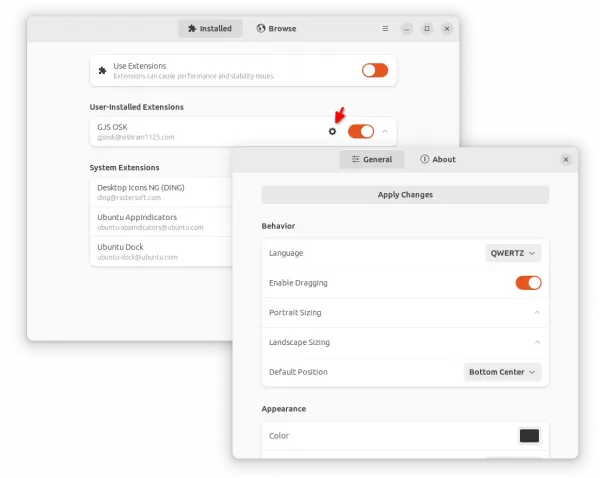 For Fedora and other Linux, go to the extension web page and use ON/OFF switch to install it. Finally, install "Gnome Extensions" app either from Gnome Software or system package manager to access the extension's configuration page.