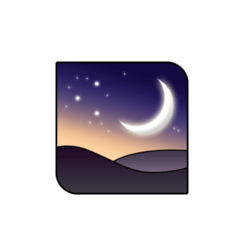 Free-software planetarium Stellarium 0.20.3 was released a day ago with numerous changes. Here's how to install it in Ubuntu 18.04, Ubuntu 20.04 via PPA.
Stellarium 0.20.3 fixed nutation and, with it, season beginning times, included many changes in AstroCalc tool, Oculars and Satellites plugins, and updated DSO catalog.
Changes in the new release include:
Add B pass band for compute photometric values of nebulae
Add show standard magnitude and RCS info for satellites in the GUI of Satellites plugin
Add new filters for satellites
Add GUI buttons to define object information font color at daylight and for overwrite mode
Add 2 new columns for AstroCalc/Positions tool
Add editable keyboard shortcut for buttons in AstroCalc tools
Add new initial time steps in AstroCalc/Phenomena tool
Add option to use on the screen star designations only
Add option in the GUI to define color of text in Equation of Time plugin
Add new button into Shortcut Editor and Add new tool to restoring defaults
Add action to restart trails
Add "current vertical" line
Add support custom time steps for ephemeris in AstroCalc/Ephemeris tool
Add ability to show several objects' ephemerides in AstroCalc/Ephemeris tool
Add using texture for satellite, when he crossing of the Moon or the Sun
Add new groups of satellites: all new groups of satellites based on their orbital properties
Add pixel grid for sensors to Ocular plugin
Add show a binning info for CCD to Oculars GUI Panel
Add option into GUI to toggle drawing halo around the Moon
Add new names for planetary features
Add star names for Western (O. Hlad) sky culture
Add CLI option to start Stellarium in scaling GUI mode
Add note to S&T sky culture
Add support of new type of labels (labelEquatorial) for scripting engine
Add 3 new groups of satellites
Add buttons to define special colors for satellites in Satellites plugin
Add International Designator info into the GUI of Satellites plugin
Add epoch of the TLE info into GUI of Satellites plugin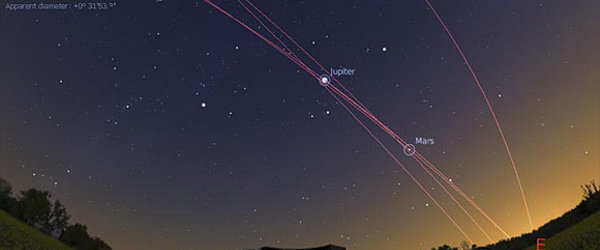 How to Install Stellarium 0.20.3 in Ubuntu:
The official Stellarium PPA contains the latest packages for Ubuntu 18.04 and Ubuntu 20.04
1. Open terminal either by pressing Ctrl+Alt+T on keyboard or by searching for 'terminal' from application menu. When it opens, run command to add the PPA:
sudo add-apt-repository ppa:stellarium/stellarium-releases
Type user password (no asterisk feedback) when it prompts and hit Enter.

2. Then either upgrade Stellarium from an old version with Software Updater utility: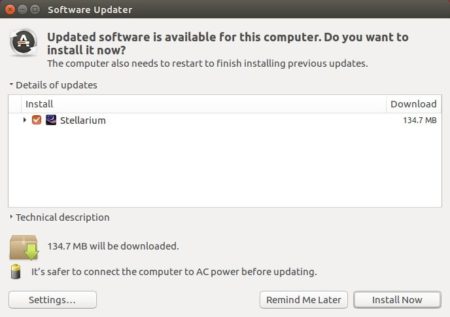 Or run following commands to install or upgrade the software from terminal:
sudo apt update

sudo apt install stellarium
Uninstall:
To remove the software, either use your system package manager or run command:
sudo apt-get remove --autoremove stellarium
And remove the PPA via "Software & Updates" utility under Other Software tab.