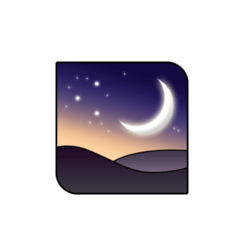 Free and open-source planetarium software Stellarium 0.18.0 was released last night. The new release added support for Hierarchical Progressive Surveys (HiPS).
Changes in Stellarium 0.18.0 include:
Added support Hierarchical Progressive Surveys [HiPS] (Hello visualization of multiwavelength universe in the Stellarium)
Added patches for TeXLive
Added Dnoces star name
Added computation of solar eclipse magnitude and solar eclipse obscuration on Earth (special case)
Added option to allow adding some sky background color
Added Moon age computation
Added "Western (O.Hlad)" sky culture
Added support common names of pulsars
Added some DSO images
Added calculation of synodic period
Added AstroCalc/Monthly Elevation tool
Added optional Sun, Moon, Astronomical Twilight and Nautical Twilight lines for AstroCalc/AltVsTime tool
Added Battlesteads Observatory into locations list
Added a special case of computations (lunar eclipse) into AstroCalc/Phenomena tool
Added two new signals to manage wide dates changes with various steps – by months and years
Added tools for select color of planetary labels and trails
Added option to suppress drawing large halo around bright stars.
Added Tesla Roadster orbital elements
Added config options for font size of cardinal points
Added visualization of civil twilight line in AstroCalc/AltVsTime tool
Added 'Artificial objects' into Search/Lists tool
Added feature to store and retrieve selected HiPS
Added bottom bar GUI button for HiPS display
Updated and extended AstroCalc tool
Added support a Hickson Compact Group collection
Updated code and data, and fixed various bugs.
How to Install Stellarium 0.18.0 in Ubuntu:
The developers maintain a stable PPA repository that contains the latest Stellarium packages for Ubuntu 16.04, Ubuntu 17.10, Ubuntu 18.04.
1. Open terminal either via Ctrl+Alt+T or by searching 'terminal' from app launcher. When it opens, run command to add the PPA:
sudo add-apt-repository ppa:stellarium/stellarium-releases
Input your password (no visual feedback while typing) when it prompts and hit Enter.

2. Then upgrade Stellarium from an existing release with Software Updater utility: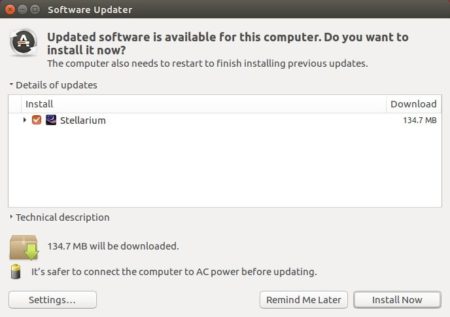 Or run following commands to install the software for the first time:
sudo apt-get update

sudo apt-get install stellarium
Uninstall:
To remove the software, either use your system package manager or run command:
sudo apt-get remove --autoremove stellarium
And remove the PPA via "Software & Updates" utility under Other Software tab.