The free open-source vector drawing app Inkscape 1.1 got its first maintenance update. Users are recommended to upgrade!
Thanks to the upstream GTK+3 fix, pressure sensitivity works again on Windows ink devices in Inkscape 1.1.1. And, the release includes many other general fixes, such as Stroke to Path works on text again; Saving no longer leaks memory; improve startup time on Windows; Canvas no longer blurred when moving window from HiDPI to a regular display; Click to select objects; Caps lock no longer stops some shortcut keys from working on Windows.
By clicking on a resizing separator (aka three-dots) of a docked dialog will now toggle dock visibility. The the "Font features" tab now load faster so it don't freeze. And the transparency is now respected when applying the Fast Crop filter.
Other changes in Inkscape 1.1.1 include:
All templates generated from the 'Welcome' dialog now use a document scale of 1
Fix save as optimized SVG in Inkscape Appimage.
Fix opening EPS files in Inkscape Snap app.
Snap app now remembers user preferences even user home is not accessible.
Settings for font size and precision for the Measure tool work again
Measurements no longer reset on right click or tool switch.
Various crash fixes, and translation updates.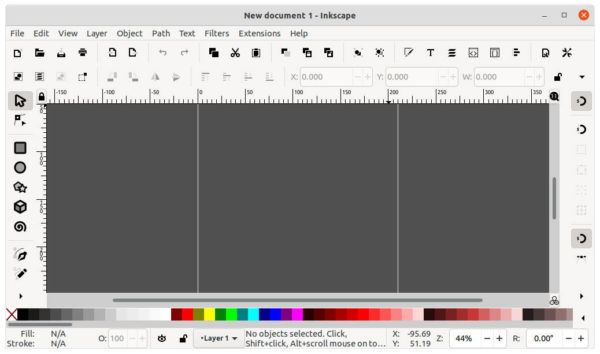 How to Install Inkscape 1.1.1 in Ubuntu:
Inkscape is available to install via universal Snap and Flatpak packages, as well as classic deb via an official Ubuntu PPA. Just choose the one that you prefer.
Snap App:
Inkscape offers official Snap package, which runs in sandbox. Ubuntu users can install it easily from Ubuntu Software: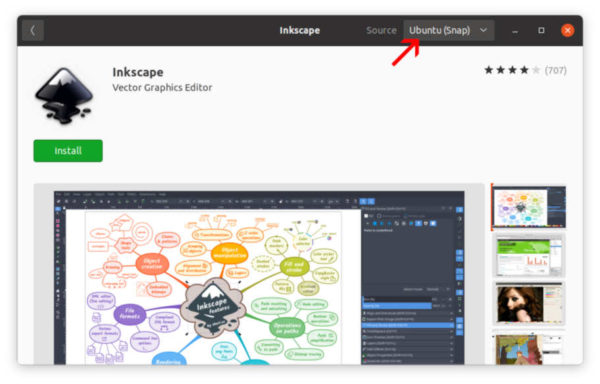 Snap Flatpak:
The graphics editor also available as the universal Flatpak package. Press Ctrl+Alt+T on keyboard to open terminal, then run following commands one by one to install the package:
Install the Flatpak daemon in Ubuntu 20.04 and higher (ubuntu 18.04 need this PPA):
sudo apt install flatpak
Add the flathub repository which hosts most flatpak packages:
flatpak remote-add --if-not-exists flathub https://flathub.org/repo/flathub.flatpakrepo
Finally run command to install the Inkscape Flatpak package:
flatpak install flathub org.inkscape.Inkscape
Inkscape PPA:
For those sticking to the classic deb package, the official Ubuntu PPA offers the most recent packages for Ubuntu 20.04, Ubuntu 21.04, and Ubuntu 21.10.
1.) Search for and open terminal from the activities overview screen. When it opens, paste the command below into terminal and run to add the PPA:
sudo add-apt-repository ppa:inkscape.dev/stable

2.) Next either upgrade the vector graphics editor using Software Updater (Update Manager):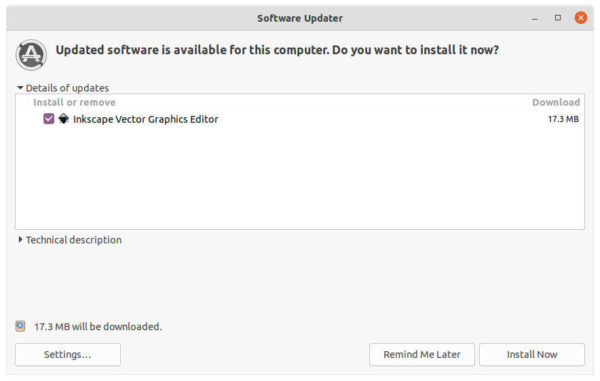 Or, run apt command instead in terminal to install/upgrade the package:
sudo apt install inkscape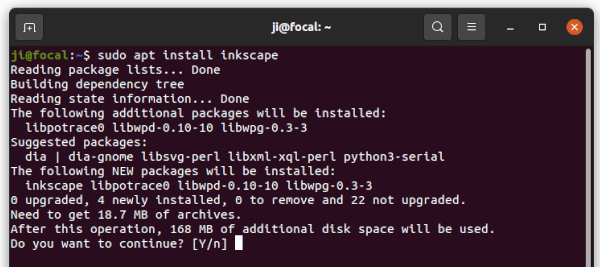 Uninstall Inkscape:
To remove the Inkscape Snap package, either use Ubuntu Software or run command in terminal:
snap remove --purge inkscape
To remove the Flatpak package, use command:
flatpak uninstall org.inkscape.Inkscape
And remove the editor installed from PPA using apt command:
sudo apt remove --autoremove inkscape