This quick tutorial is going to show you how to add a folder to Nautilus file browser 'Places' sidebar in Ubuntu 13.04 Raring Ringtail, Ubuntu 13.10 Quantal.
Actually this will add your folders to a new column called Bookmarks. You can add a user folder, system folder, mounted folder to sidebar by going into the directory in Nautilus and then click the "gear" button and click Bookmark this Location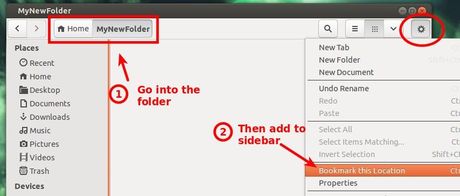 If you're on Ubuntu 12.04 Precise with Nautilus 3.4.x, use menu Bookmarks -> Add Bookmark instead.