Gparted 0.16.2 has been released with important bug fixes and language translation updates. Here's how to install or upgrade in Ubuntu 13.04 Raring, Ubuntu 12.04 Precise and Linux Mint 13 Maya, 15 Olivia.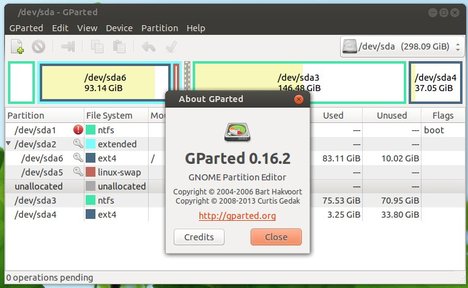 Key changes include:
Fix crash if click apply before pending operations fully displayed
Fix FAT16/32 labels are sometimes shown corrupted
Fix regression which broke linux-swap resize
Fix to not hide the progress of the tools used (e.g., ntfsresize)
GParted is a GTK+ front-end to GNU Parted and the official GNOME Partition Editor application besides Disks. It's available in Ubuntu Software Center, but old. The GetDeb repository contains the latest packages for Ubuntu 13.04 Raring, Ubuntu 12.04 Precise and their derivatives.
Install / Upgrade Gparted:
First click the link below to download the getdeb package, then double-click to install it via pop-up Ubuntu Software Center. It will add getdeb repository to your system.
Then, run below command in terminal to update and install it. Or you can use Synaptic Package Manager to upgrade the Gparted if you have it installed.
sudo apt-get update; sudo apt-get install gparted