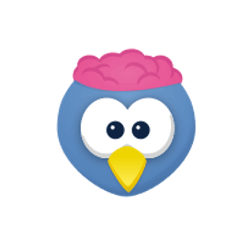 Corebird, an open-source GTK+3 twitter app, has reached the 1.3 release with some new features and build system improvements.
Corebird 1.3 changelog:
The build system will now check for gtksink
Remove libgee dependency
The compose tweet window will now save the current text on cancel
Allow self-retweeting
Fade loaded inline media in
Twitter wont send mp4 urls for their videos anymore starting August 1st, so support HLS videos
Query full-length DMs
Support muting in profiles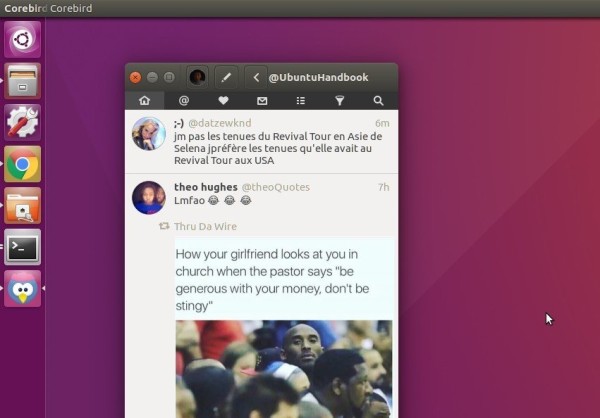 How to install Corebird 1.3 in Ubuntu 16.04:
Besides building the software from source, you can install the latest release from third-party PPA, Ubuntu 16.04 and its derivatives are supported.
1. Add PPA
Open terminal (Ctrl+Alt+T) and run the command below to add the PPA:
sudo add-apt-repository ppa:ubuntuhandbook1/corebird 
Type in your password when it prompted and hit Enter.

2. If you have a previous release installed, just launch Software Updater and upgrade it after checking for updates.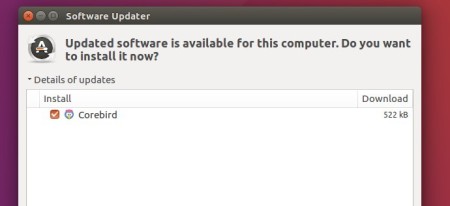 Or run the commands below one by one in terminal to update and install Corebird Twitter client:
sudo apt update

sudo apt install corebird
3. (Optional) For those who want to revert to Corebird 1.1, the stock version in Ubuntu 16.04, purge the PPA via ppa-purge:
sudo apt install ppa-purge && sudo ppa-purge ppa:ubuntuhandbook1/corebird
That's it. Enjoy!