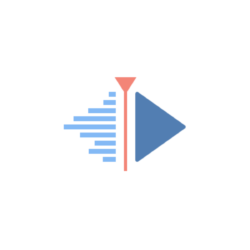 The Kdenlive video editor 21.12 was released this Monday with exciting new features!
As the last release in 2021, it introduced Slip trimming mode support. By selecting a clip in the timeline, use may use menu "Tool -> Slip tool" to drag moving the clip. This will change the start and end points of the clip simultaneously while keeping the original duration.
Another big new feature is Multicam Editing. It allows to edit the multiple cameras' footage. By adding video clips in different tracks but at the same position, user may enable it via "Tool -> Multicam tool". Then, either press corresponding numbers (e.g., 1 for track v1 and 2 for track v2) or click in monitor to trim the clips in the desired track.
Other changes in Kdenlive 21.12 include:
Initial Ripple edit implementation.
DaSiamRPN visual tracking algorithm.
New object obscure: Pixelate and Opaque Fill.
Multiple project Bins and speaking of Bins support.
User manual via Sphinx.
Stable for macOS with Intel.
Update code base license to GPLv3.
How to Install Kdenlive 21.12 in Ubuntu / Linux Mint:
The Kdenlive official PPA has been updated with the latest packages for Ubuntu 20.04, Ubuntu 21.04, Ubuntu 21.10, and their derivatives, e.g, Linux Mint 20, Elementary OS 6, and Zorin OS 16.
1.) Add Ubuntu PPA:
Open 'terminal' from your system application menu, then run command to add the PPA:
sudo add-apt-repository ppa:kdenlive/kdenlive-stable
Type your password when it asks (no asterisk feedback) and hit Enter to continue.

2. ) Install or Upgrade Kdenlive:
If an old version of kdenlive was installed, you can upgrade it via Update Manager: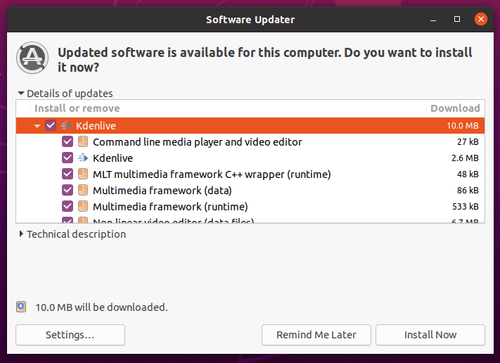 Or simply run command in terminal to install the video editor:
sudo apt install kdenlive
NOTE for Linux Mint or may be other Ubuntu based systems, you need to update the package cache manually by running sudo apt update command before installing the software.
Uninstall:
To purge the PPA as well as downgrade Kdenlive package, run command in terminal:
sudo apt install ppa-purge && sudo ppa-purge ppa:kdenlive/kdenlive-stable
To remove the PPA only, run command:
sudo add-apt-repository --remove ppa:kdenlive/kdenlive-stable
And to remove Kdenlive, run command:
sudo apt remove --autoremove kdenlive kdenlive-data