Liferea feed reader and news aggregator released version 1.13.7 a few days ago as the latest development release.
Liferea is a GTK+3 news reader with an embedded web browser. It supports for reading articles offline, force fetch full article text using HTML5 extraction, and subscribing to HTML5 websites that do not even have a feed.
It may also permanently save headlines in news bins, and supports for synchronizing with "TinyTinyRSS", "TheOldReader", and "Reedah".
The 1.13.7 release continues working on the 'Reader mode'. User now can toggle on/off Reader mode by right-clicking on lower right HTML view area via context menu option. And, it now allows to convert TinyTinyRSS subscriptions to local scriptions.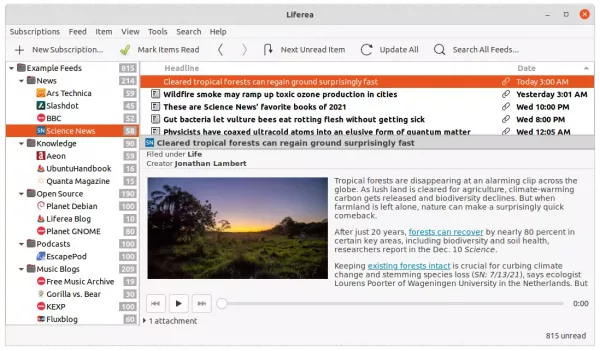 Other changes in Liferea 1.13.7 include:
Support for user-agent string customization and anonymization.
Add 'Always show in Reduced Feed List' option in news bin properties.
Execute feed pipe/filter commands asynchronously.
Fix HTML view blanking when following links by left click
Fix UI blocking when using command pipes or feed filters
Fix truncated content after Youtube embeds
Fix wrong (doubled) number of unread items
And other fixes, translation and documentation updates.
How to Install Liferea in Ubuntu Linux:
The RSS feed reader is available to install via universal Flatpak package.
Some users stick to the native deb package, so I uploaded it into may personal PPA for Ubuntu 20.04, Ubuntu 21.04, Ubuntu 21.10 and derivatives, e.g., Linux Mint 20. Due to outdated dependency library, Ubuntu 18.04 is not supported in this PPA.
1. Add the Ubuntu PPA:
First, either search for and open terminal from start menu, or simply press Ctrl+Alt+T on keyboard. When terminal opens, run command to add the PPA:
sudo add-apt-repository ppa:ubuntuhandbook1/apps
Type user password (no asterisk feedback) when it asks and hit Enter to continue.

2. Install / Upgrade Liferea:
Since Ubuntu 20.04+ checks package updates automatically while adding PPA, you can now run command to install the feed reader:
sudo apt install liferea
or launch 'Software Updater' and upgrade the package from an old release. NOTE: some Ubuntu based systems may require to manually update cache via sudo apt update command first.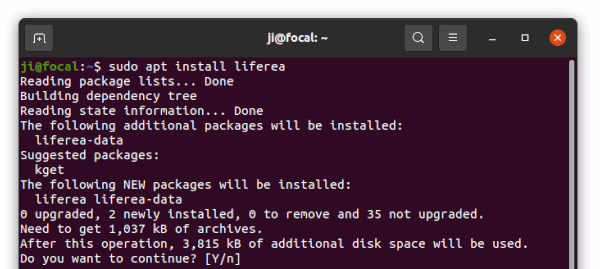 How to Remove Liferea and the Ubuntu PPA:
The PPA also contains some other software packages, so you may remove it after installing Liferea, by either running command:
sudo add-apt-repository --remove ppa:ubuntuhandbook1/apps
or using "Software & Updates" utility under "Other Software" tab to manage all third-party repositories.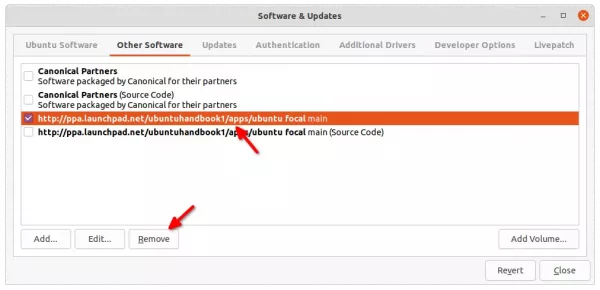 And to remove Liferea feed reader, use command:
sudo apt remove --autoremove liferea