Remember the old fashioned Desktop Cube effect? Almost 10 years ago, Ubuntu user may enable this Compiz effect, so press and hold Ctrl+Alt key and drag the mouse will turn Desktop into a rotatable cube.
Now there's an extension to reproduce this effect in GNOME 40 & 41. Which means, users of Ubuntu 21.10, Fedora Workstation 35, or Arch Linux so far may try out this cool 3D effect in their desktop.
The extension is now in early stage. User may not so far rotate the "cube" for an entire round, but it's working on new features including:
Free rotation of cube via middle mouse button.
Proper multi-monitors support.
Sky boxes.
Cuboid transitions when switching workspaces via keyboard shortcuts.
And more.
How to Install Desktop Cube Extension:
Ubuntu users need to press Ctrl+Alt+T to open terminal, and run command to make sure chrome-gnome-shell package is installed:
sudo apt install chrome-gnome-shell
Then, go to the extension web page and turn on the slider icon to install it:
If you don't see the toggle icon, click the link says'Click here to install browser extension' to install browser extension and refresh the web page.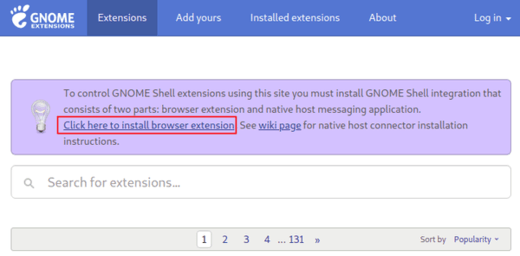 Once installed, either press Super/Windows key or click 'Activities' to trigger overview, then switch workspaces via Ctrl+Alt+Arrow to start the effect.
NOTE: To get better effect, it's better to have more than 3 workspaces. Just open or move a window to the second workspace, it will create a new workspace automatically. Or, install and open Gnome Tweaks and set a static number of workspaces: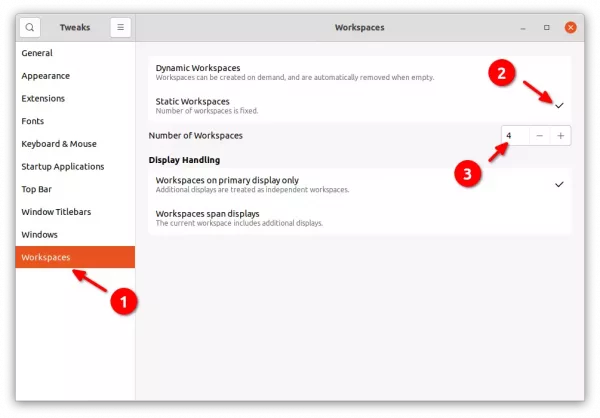 Uninstall Desktop Cube extension:
To remove the extension, just go to the extension web page via the button above and turn off the slider icon.
Or, search for and install 'Gnome Extensions' app in Ubuntu Software (Gnome Software) and use the tool to manage extensions.