Shotwell photo viewer and organizer released new 0.32.3 version a day ago with minor updates.
The release came with some bug-fixes and minor changes, they include:
Fix asking twice on closing viewer with modified image
Do not try to reload photo on shutdown
Do not abort if new thumbnail size does not exist
Open fullscreen windows on correct monitor
Do not show toolbar if mouse is on another monitor
Do not leak zoom buffers
Remove length limit for GPhoto import
Be more robust against invalid UTF-8 filenames
Drop some old work-arounds
As well, there's new/updated translations included in this release. They include: id.po, courtesy of Andika Triwidada; eu.po, courtesy of Asier Sarasua Garmendia; hu.po, courtesy of Balázs Úr; sl.po, courtesy of Martin Srebotnjak.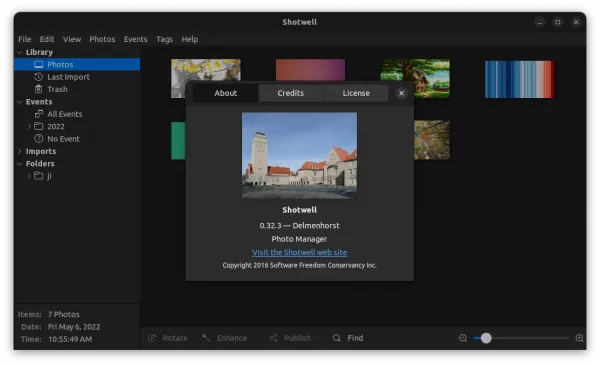 How to Install Shotwell 0.32.3 in Ubuntu
Shotwell is available to install in Ubuntu via a few different ways.
Snap package
Canonical (the company behind Ubuntu) maintains Shotwell as Snap package, which runs in sandbox. However, it's stuck at 0.32.1 at the moment of writing.
The snap package is available to install in Ubuntu Software (or App Center for 23.10).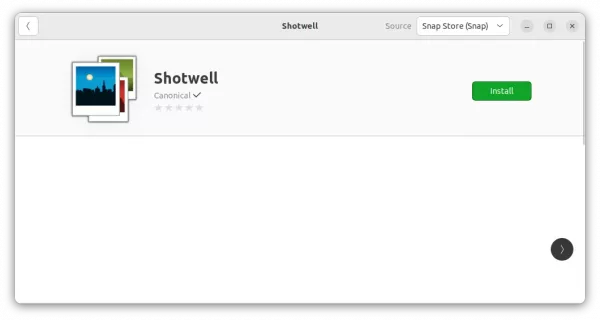 Flatpak package
Shotwell is also available to install as Flatpak package, another universal Linux package format runs in sandbox. It's marked as maintained by the Shotwell developers, but NOT verified.
The Flatpak is at version of 0.32.2 at the moment of writing (check HERE). Ubuntu user can press Ctrl+Alt+T on keyboard to open terminal, and run 2 commands one by one to install it:
First, make sure the flatpak daemon is installed:

sudo apt install flatpak

Then, install shotwell as flatpak:

flatpak install https://dl.flathub.org/repo/appstream/org.gnome.Shotwell.flatpakref
Ubuntu PPA
For those who prefer the classic native .deb package format, I've upload the package into this unofficial PPA for Ubuntu 22.04, 23.04, and 23.10.
1. First, search for and open terminal from your system application menu, or press Ctrl+Alt+T on keyboard. When it opens, run command to add the PPA:
sudo add-apt-repository ppa:ubuntuhandbook1/shotwell
Type user password (no asterisk feedback) when it asks and hit Enter to continue.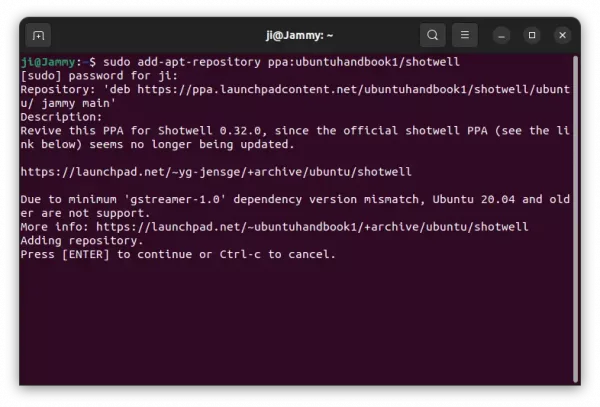 2. Next, launch Software Updater (Update Manager), then install the updates for the software package.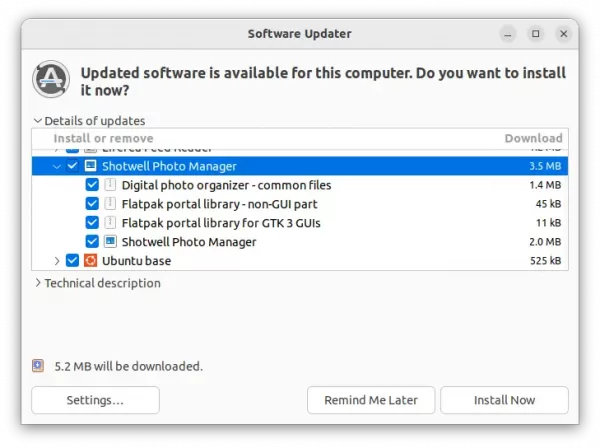 Or, run command in terminal to install/upgrade the Shotwell package:
sudo apt install shotwell
NOTE: Linux Mint user may need to run sudo apt update first to refresh package cache.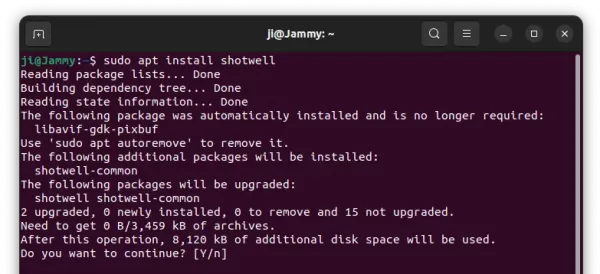 Finally, either right-click on your photo images to select open with the photo manager, or search for and launch shotwell from 'Activities' overview and enjoy!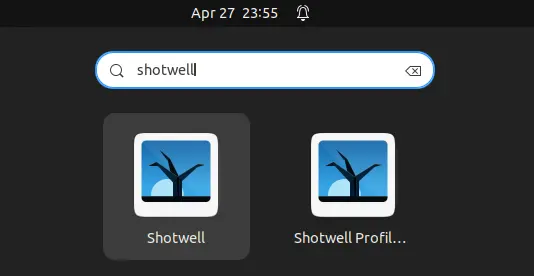 Uninstall Shotwell 0.32.3
For any issue, it's recommended to purge the Ubuntu PPA. Which, will remove PPA and downgrade shotwell to the pre-installed version.
To do so, open terminal (Ctrl+Alt+T) and run command:
sudo apt install ppa-purge && sudo ppa-purge ppa:ubuntuhandbook1/shotwell
For the Snap package, just remove it from Ubuntu Software or App Center. While, Flatpak package can be removed by running the command below in a terminal window:
flatpak uninstall --delete-data org.gnome.Shotwell