For sports fans who want to keep a watchful eye on live scores for favorite teams, here's an indicator applet for Ubuntu, Fedora, and other Linux with GNOME.
It's colosseum, which displays an indicator in top-panel system tray area. By clicking on it will show the menu with live scores for your favorite sports teams.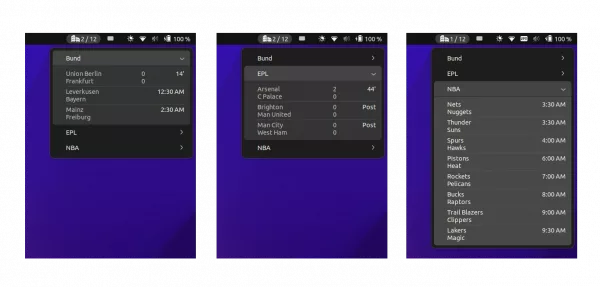 So far, it supports 12 sports leagues:
Bundesliga
2. Bundesliga
English Premier League
La Liga
Ligue 1
Major League Baseball
National Basketball Association
National Football League
National Hockey League
Serie A
UEFA Champions League
Women's National Basketball Association
There are also 5 supported tournaments, including
CONCACAF Gold Cup
Copa America
FIFA World Cup
UEFA Champions League
UEFA European Championship
How to Install this live scores indicator
This indicator is available as an extension, which so far supports GNOME v40, 41, 42 and 43. Meaning, you can install and use it in Ubuntu 22.04+, Fedora 35+, Arch, Manjaro, Rocky Linux, etc with GNOME desktop.
1. For Ubuntu 22.04 and higher, first search for and install "Extension Manager" from Ubuntu Software.
2. Then open the extension manager tool, navigate to "Browse" tab. Finally, search and install "colosseum" extension.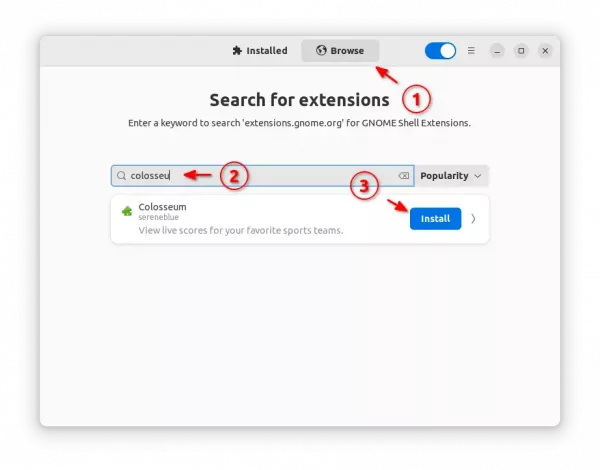 3. Once installed, switch back to "Installed" tab, and click on gear icon for that extension to open the configuration page.
There, set the refresh time interval, turn on the toggle buttons for your favorite sports leagues and/or tournaments. New configuration tabs will appear, where you can follow your favorite teams.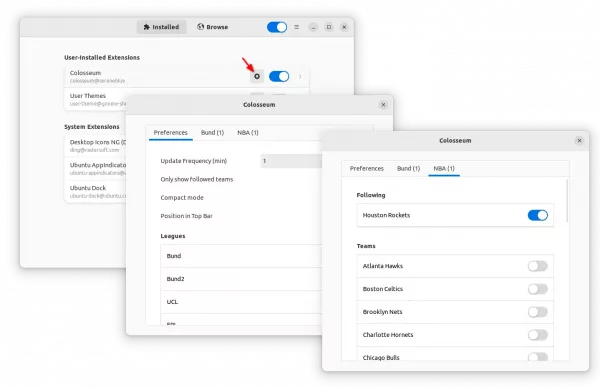 TIP: If the indicator applet does not appear in panel, try to turn off and then turn on again the extension, or just log out and log back to restart Gnome Shell.
For other Linux, go to this page and use ON/OFF switch to install the extension. And, install and use "Gnome Extensions" app to manager extensions' configurations.