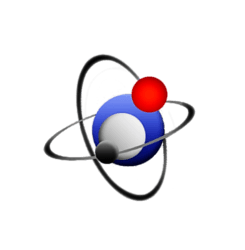 MKVToolNix 19.0.0 "Brave Captain" was released a few days ago. The source code repository, bug tracker and wiki have been moved to GitLab.
MKVToolNix 19.0.0 release highlights:
mkvmerge will now consider the first key frame within 1ms of the requested value to be eligible for splitting.
the GUI will now save and restore the widths of columns in tree and list views.
when closing or reloading a modified file, the GUI will now focus the first element that's been modified before asking the user for confirmation regarding discarding unsaved changes.
See the news page for more details.
How to Install MKVToolNix 19.0.0 in Ubuntu:
The tool has an official Linux repository offers the latest packages for Ubuntu 16.04, Ubuntu 17.04, Ubuntu 17.10 so far.
Open terminal via Ctrl+Alt+T or by searching it from app launcher. When it opens, do following steps:
1. Run command to add the repository:
sudo sh -c 'echo "deb https://mkvtoolnix.download/ubuntu/ $(lsb_release -sc) main" >> /etc/apt/sources.list.d/bunkus.org.list'
Replace $(lsb_release -sc) with xenial for Linux Mint 18.x. And input your password (no visual feedback while typing) when it prompts and hit Enter.

2. Then install the key:
wget -q -O - https://mkvtoolnix.download/gpg-pub-moritzbunkus.txt | sudo apt-key add -

3. Finally either upgrade the software via Software Updater (Update Manager):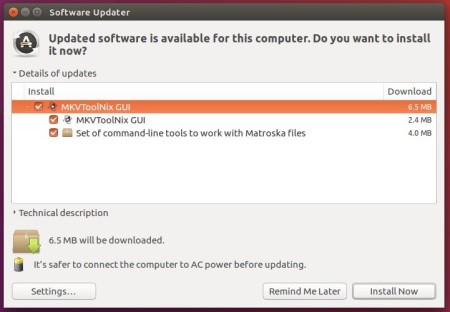 or run command to install the software packages:
sudo apt-get update

sudo apt-get install mkvtoolnix mkvtoolnix-gui
Uninstall:
To remove the repository, launch Software & Updates utility and navigate to Other Software tab.
To remove MKVToolNix, use Synaptic Package Manager or run following command:
sudo apt-get remove --autoremove mkvtoolnix mkvtoolnix-gui