Pictoric is a simple utility for Ubuntu Unity to create a desktop slideshow out of the directory of your choice that contains either .jpg/.jpeg or .png files for a given time interval that you choose. Your desktop slideshow will then be initiated and saved to be ready to go for subsequent logins.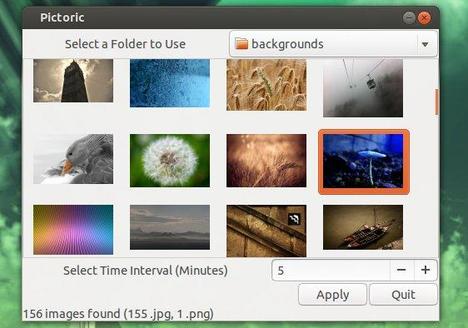 Just simple and efficient! To install it in Ubuntu, download and double-click to install the DEB via pop-up Ubuntu Software Center.
Download Pictoric in Launchpad
You can also install this app from the PPA. Press Ctrl+Alt+T to open terminal, then run below commands one by one:
sudo add-apt-repository ppa:glacier-apps/pictoric
sudo apt-get update
sudo apt-get install pictoric
Once installed, you can open it from Unity Dash or in System Settings window.