SuperTuxKart, a Free 3D kart racing game recently released v0.8.1 with Wiimote support, new karts, modes and track.
This tutorial is going to show you how to install this new release in Ubuntu 13.10, Ubuntu 13.04, Ubuntu 12.04 and enjoy the game.
New features in SuperTuxKart:
New track 'STK Enterprise'
Updated tracks 'Old Mine', 'Around the Lighthouse' and 'Zen Garden'
New modes 'Soccer' and 'Egg Hunt'
New karts 'Xue' and 'Sara'
Updated 'Beastie' kart
Wiimote support (for most Wiimotes; check supertuxkart.net/wiimote for instructions and compatibility)
Added tutorial
Added new 'SuperTux' difficulty
New bubblegum shield defensive weapon
New combined speedometer and nitro meter
Added ability to filter add-ons
Updated nitro models
Added ability to save and resume Grand Prix
Improved skid marks and particle effects
SuperTuxKart 0.8.1 official video:
Install SuperTuxKart 0.8.1:
First check out system type (32 bit or 64 bit) under System Settings -> Details. Then download the portable version from the official download page for Linux.
Then extract the package and run executable from result folder/bin/
To create a launcher for SuperTuxKart 0.8.1, press Ctrl+Alt+T on keyboard to open terminal. When it opens, run command below to install required packages:
sudo apt-get install gnome-panel --no-install-recommends
Then run command to bring up new launcher dialog:
sudo gnome-desktop-item-edit /usr/share/applications/ --create-new
In pop up window, type:
Name: SuperTuxKart-portable
Command: /home/YOURUSERNAME/Downloads/SuperTuxKart/bin/supertuxkart ### You may change the code to PATH to your GAME folder
Icon: choose from /home/YOURUSERNAME/Downloads/SuperTuxKart/data/ folder.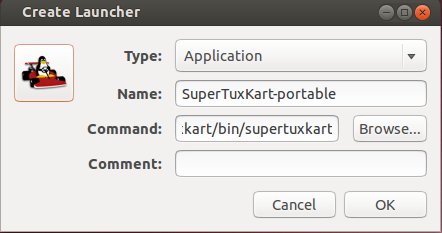 Once done, you can launcher the game from Unity Dash.