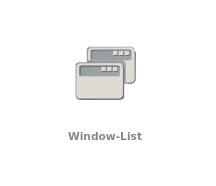 Window-List is an application indicator to display a list of all current open windows. Each window can be activated by selecting from the list.
This indicator applet works on Gnome Classic, Unity, Xfce. Here are the screenshots:
Install Window-List indicator:
This applet can be installed from PPA in Ubuntu 13.10 Saucy, Ubuntu 13.04 Raring, Ubuntu 12.10 Quantal, Ubuntu 12.04 Precise, Ubuntu 11.10 Oneiric, Ubuntu 11.04 Natty, Linux Mint and their derivatives.
To add the PPA, press Ctrl+Alt+T on keyboard to open terminal and run command below:
sudo add-apt-repository ppa:jwigley/window-list
Then update package lists and install the applet via 2 commands:
sudo apt-get update

sudo apt-get install window-list