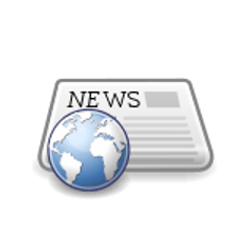 Liferea, a free RSS feed reader and news aggregator, gets a new release. PPA has been updated with the latest packages, available for Ubuntu 14.10 Utopic, Ubuntu 14.04 and Ubuntu 12.04.
Liferea, stands for Linux Feed Reader, is a native app for Linux desktop. Its GUI is similar to a desktop mail/newsclient, with an embedded graphical browser. It's able to play audio & video feeds with plugins.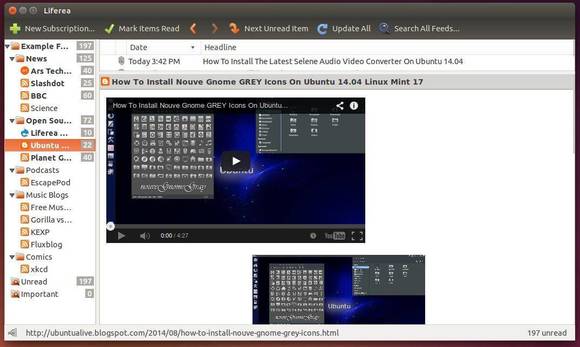 The latest version 1.10.11 was released a few hours ago with bug fixes and translation updates:
Fixed: Doesn't automatically update feed name and favicon for new feed (reported by asl97)
Fixed: Missing dist files for documentation (patch by Mikel Olasagasti)
Fixed Javascript links not opening in new browser tabs
Updated French translation (Guillaume Bernard)
Updated Hebrew translation (Genghis Khan)
How to Install Liferea in Ubuntu:
Liferea is available in Ubuntu Software Center by default, but it's always old. I have create a Ubuntu PPA and keep uploading the latest packages for all current support Ubuntu releases.
Press Ctrl+Alt+T on keyboard to open the terminal. When it opens, paste the commands below and run one by one:
sudo add-apt-repository ppa:ubuntuhandbook1/apps

sudo apt-get update

sudo apt-get install liferea
The above will add the PPA repository and install the latest liferea packages in your system.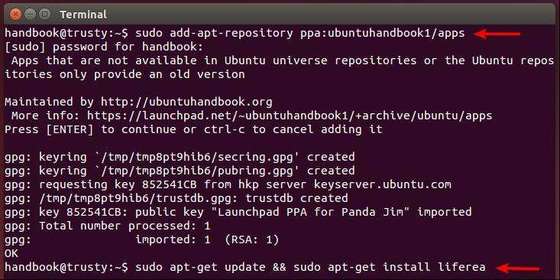 Once installed, open the feed reader from Unity dash or application menu and enjoy!