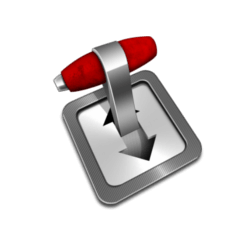 Transmission, the default BitTorrent client, reached the 2.94 release a few days ago. Now you can install it in Ubuntu 16.04, Ubuntu 17.10, Ubuntu 18.04 easily via PPA.
Transmission 2.94 is a bug-fix release with following changes:
Fix building against LibreSSL
Fix building against mbedTLS
Fix torrents ETA calculation
Fix cross-compilation issues caused by miniupnpc configuration test
Fix bad downloaded percentage in DetailsDialog for Qt client
Fix tracker error XSS in inspector for web client
Fix torrent name HTML-escaping in trackers inspector tab for web client.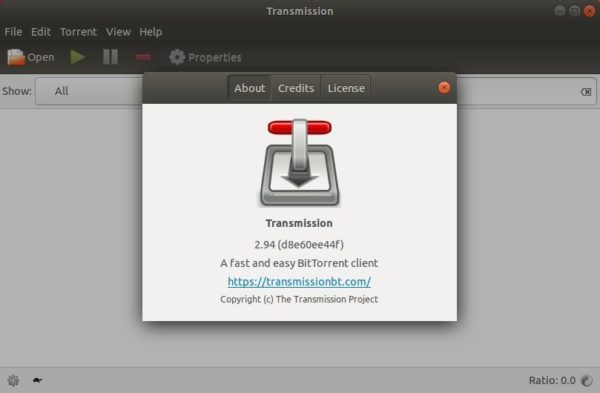 How to Upgrade Transmission in Ubuntu:
Transmission has a stable PPA that so far maintains the latest packages for Ubuntu 16.04, Ubuntu 17.10, and Ubuntu 18.04.
1. Open terminal either via Ctrl+Alt+T or by searching for 'terminal' from app launcher. When it opens, run command to add the PPA:
sudo add-apt-repository ppa:transmissionbt/ppa
Input your password (no visual feedback while typing) when it prompts and hit Enter to continue.

2. Then launch Software Updater (update manager) and install updates for Transmission to upgrade the software: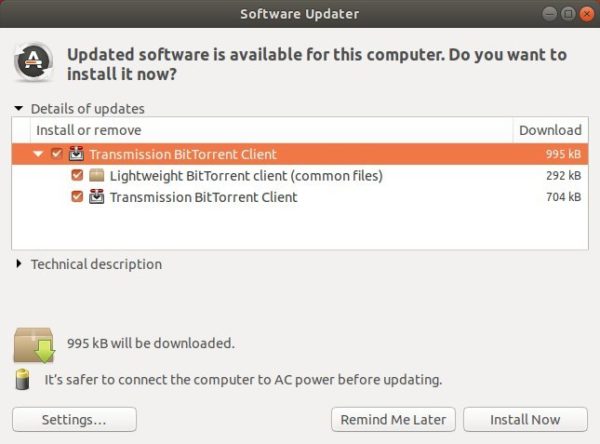 How to Restore:
To restore to the default transmission installed by default, run command to purge the PPA as well as downgrade the software:
sudo apt-get install ppa-purge && sudo ppa-purge ppa:transmissionbt/ppa