Want to display audio/music visualizer on the desktop? This extension can do the job for Ubuntu 22.10, Fedora 37, Arch/Manjaro Linux with GNOME.
It's "Sound Visualizer" extension for Gnome Shell based on Gstreamer specially for Wayland. And, it's working good in my case in Ubuntu 22.04, though it's said for Gnome v43.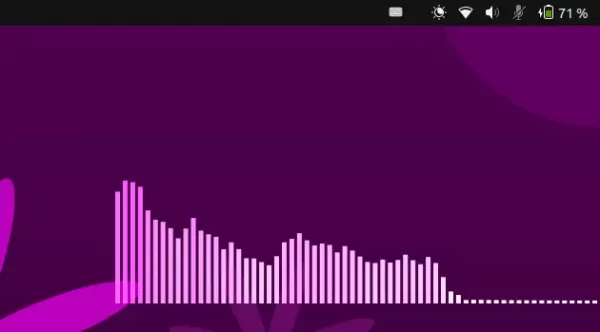 Besides for music playback, it works when any sound play from your computer. And, it has a right-click menu to switch between input/output audio sources. Meaning, it supports sounds input from microphone.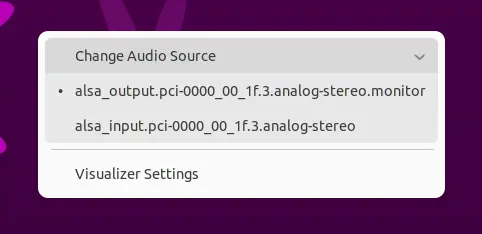 How to Install this "Sound Visualizer" desktop widget
1. (For Ubuntu 22.04 only) As mentioned, the extension supports GNOME v43 at the moment of writing. If you want to try it out in 22.04, first disable extension version validation.
To do so, press Ctrl+Alt+T on keyboard. When it opens, run command:
gsettings set org.gnome.shell disable-extension-version-validation true
2. Next, open Ubuntu Software. Search for and install 'Extension Manager' tool for installing and managing Gnome Shell extensions. Or, run command in terminal in case the Software App does not work.
sudo apt install gnome-shell-extension-manager
3. Finally, launch 'Extension Manager', and navigate to 'Browse' tab. Search for and install the 'Sound Visualizer' extension. (For Ubuntu 22.04, just click on Unsupported button)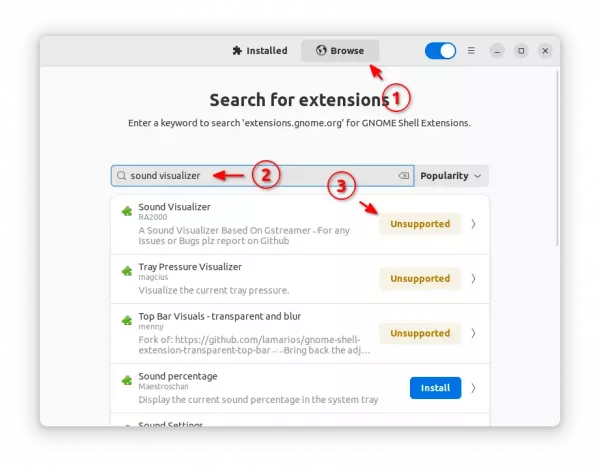 For Fedora 37, Arch and Manjaro Linux with GNOME, visit this page in web browser and use the ON/OFF switch to install it.
4. After installation, try playing some sounds and see your desktop for the result. To move the widget, you have to temporarily disable "Desktop Icons NG (DING)" under 'Installed' tab in Extension Manager.
You can also adjust the visualizer size by opening the extension preferences either via widget's context menu or by clicking the gear button for that extension in Extension Manager.