ClassicMenu Indicator 0.10 has been released. Now it's based on GTK3 and supports Ubuntu 16.04.
ClassicMenu Indicator is a system tray area applet provides classic GNOME-style application menu for those who prefer this over the Unity dash menu.
Since the last was released two years ago, ClassicMenu Indicator 0.10 brings following changes:
ported to GTK3, Python3
Ubuntu Software Center in main menu
custom logo icon support
new preference window allows to change menu definitions, icons, and other settings.
show wine applications, and even Android apps for me.
various fixes and translation updates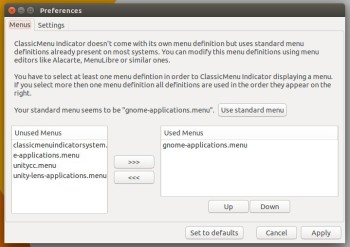 Download and Install ClassicMenu 0.10:
Download the "classicmenu-indicator_0.10_all.deb" package from either
or
Then click install it via Software Center. Works for all current Ubuntu releases and based systems, though it's built against Ubuntu 16.04.
Finally launch ClassicMenu indicator from the Unity Dash menu. Or just log out, it'll start automatically at next login.