There are a few applications for Linux desktop that change the wallpaper automatically. Webilder is one of them that rotates your wallpaper with photos directly downloaded from flickr and webshots.com.
The application provides an indicator applet for Ubuntu Unity and GNOME that allows you to downloads the most interesting photos from Flickr, browser photo collection, and select next photo (as wallpaper).
In its preferences window, you can set Webilder to automatically download photos every day, download Flickr photos that match your given tags, view and download Webshots photos with an account.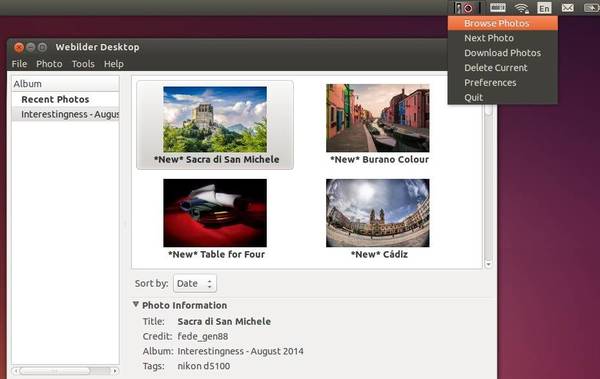 Features:
downloads the most interesting photos from Flickr.
view Webshots photos on your Linux desktop (requires Webshots account).
downloads Flickr photos that match tags (for example: beach,party)
downloads photos from Flickr users of your choice.
automatically downloads new photos for you every day.
change your wallpaper every few minutes.
import webshots collections (wbz or wbc formats).
photo collection browser that will let you view the images in fullscreen, or set them as a wallpaper.
browser integration for Webshots – downloaded images are automatically added to your collection.
command-line photo downloader webilder_downloader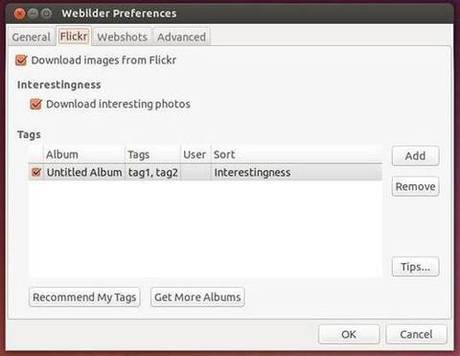 Install Webilder in Ubuntu:
The website provides the .deb package for Ubuntu and its derivatives, download it from the link below and double-click to open with Ubuntu Software Center and finally click install:
Download Webilder (webilder_xxx.deb)
Once installed, open Webilder indicator form Unity Dash or app menu. It will start automatically the next time you log in.