For Ubuntu and Linux Mint users, the latest Enlightenment DR 0.25 now is easy to install via an unofficial Ubuntu PPA.
Enlightenment (aka, E) released version 0.25 (then v0.25.1) as well as Enlightenment Foundation Libraries (EFL) 1.26 a few weeks ago. Here's how to install them in Ubuntu via PPA.
E 0.25 series comes with lots of minor bug fixes, flat look to match new flat theme, new touchpad gesture recognition bindings, new Procstats module can show mem/CPU usage in titlebar, and many more other changes.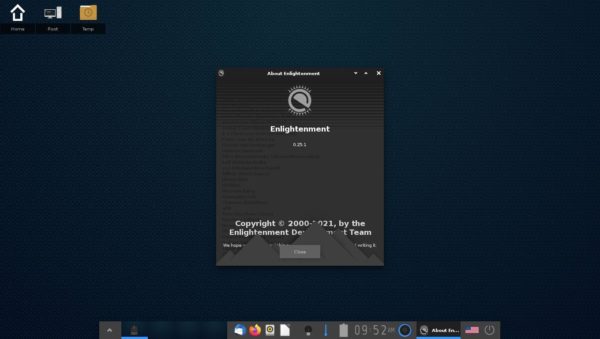 Install Enlightenment 0.25.1 via PPA:
The trustworthy, but unofficial Niko2040's PPA is back almost 4 years after the last update!!!
Thanks to the maintainer, user may now do following steps to install the latest Enlightenment while Ubuntu repositories always provide old versions.
1. Add Enlightenment PPA
Firstly, either press Ctrl+Alt+T on keyboard or search for and open terminal from start menu ('Activities' overview).
When terminal opens, run the command below to add the PPA:
sudo add-apt-repository ppa:niko2040/e19
Type user password (no asterisk feedback) when it asks and hit Enter to continue.

2. Update package cache:
Ubuntu 18.04 and some old Ubuntu based systems may need to manually refresh the package cache after adding PPA. To do so, simply run command in terminal:
sudo apt update
3. Install Enlightenment:
Finally run command in terminal to install the desktop and EFL libraries:
sudo apt install enlightenment
For choice, the latest terminology package is also available to install via the PPA.

After installation, log out and click on the bottom-right corner gear button to choose login via 'Enlightenment' session.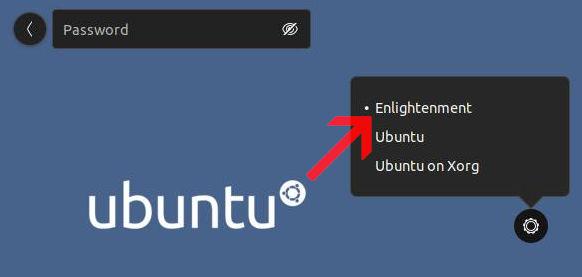 Uninstall Enlightenment:
To remove the Ubuntu PPA as well as downgrade the Enlightement package to its original version, use command below to purge it:
sudo apt install ppa-purge && sudo ppa-purge ppa:niko2040/e19
Or, remove the desktop package as well as dependencies via command:
sudo apt remove --autoremove enlightenment
And remove the Ubuntu PPA either via 'Software & Updates' utility or by running command in terminal:
sudo add-apt-repository --remove ppa:niko2040/e19