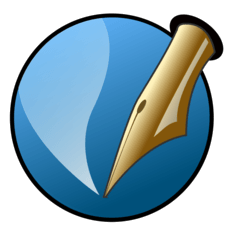 The desktop publishing (DTP) application Scribus 1.4.4 was released a few days ago on May 29. The new release features exporting to PDF/X-1a, a standard popular with print-on-demand services.
The feature was backported from the development version 1.5 which is still in the making. After activated "color management tool" in Preferences, you'll see the option in the drop-down box of Compatibility at next launch.

According to the announcement, Scribus 1.4.4 will likely be the last release in the 1.4.x branch, and the Scribus Team will from now on solely focus on the development of the next major version 1.6.
Most Important Changes:
PDF/X-1a export.
The Barcode plug-in has been updated to reflect the latest changes in the underlying Barcode Writer in Pure PostScript (BWIPP).
The Autoquote script has been rewritten and enhanced. It now provides more options and adds thin spaces to French texts where appropriate.
A script to align images in frames has been added.
Full support of the OpenICC Directory Proposal (http://www.oyranos.org/wiki/index.php?title=OpenIccDirectoryProposal).
The handling of transparencies in Photoshop-generated TIFF files has been improved.
Page borders can now act as guides (and thus be used for snapping of items).
The CMYK color palette created by the Newspaper Association of America (NAA) for newspaper advertisements has been integrated into Scribus.
A new color palette for professional geographers has been added.
Export to various bitmap formats has been re-enabled on Mac OS X.
Several issues related to the user interface and canvas display have been resolved.
Adjustments for Windows 8.x.
An issue with the spellchecker, resulting in a crash, has been resolved.
Documentation and translation updates and improvements.
More details, see the official release note.
Install Scribus 1.4.4:
Before writing this tutorial, there is no repository for Ubuntu 14.04 LTS users yet, so I made Scribus 1.4.4 into PPA (using Ubuntu's default building rules).
To install it, press Ctrl+Alt+T on keyboard to open terminal. When it opens, run the commands below one by one:
sudo add-apt-repository ppa:ubuntuhandbook1/ppa

sudo apt-get update

sudo apt-get install scribus
Available for Ubuntu 14.04, Ubuntu 13.10 and Ubuntu 12.04.
(Optional) To remove it and revert back to original version available in Ubuntu repository, run:
sudo apt-get install ppa-purge

sudo ppa-purge ppa:ubuntuhandbook1/apps
That's it. Enjoy!